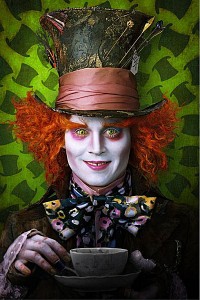 Early word on Alice in Wonderland is that it's wretched. Not that early buzz matters when pressed up against the hairy-chested brawn of studio marketing and Johnny "loved by all" Depp– (doing his best impression of Elijah Wood).
To celebrate, Obsessed with film rolls out the Alice In Wonderland red carpet with an interesting take on Johnny Depp and what he's become "at the hands of Tim Burton".
In the last five years, Depp has made the following films: Charlie and the Chocolate Factory, the three Pirates of the Caribbean, Public Enemies, and Alice in Wonderland.  In only one – Public Enemies– could anyone argue that Depp played a recognizable human character that wasn't a complete cartoon. The rest of those performances are shallow, one-note performances lacking in the depth that made some of his earlier craziness so enduring. Even his Jack Sparrow characterization, much vaunted by a stunned public at the time, is lunacy without any real point.
Amen.
Since Depp's re-arrival amidst his much ballyhooed performance as Pirates of the Caribbean's Jack Sparrow, the guy's become the every man's favorite actor. The general gushing about his acting skills as based solely on Captain Jack has always bothered me. Probably because it comes off as a false analysis of greatness: A cheap card trick that leaves the audiences giddily clapping with flat hands when the real magic was to be found elsewhere. When Johnny Depp was first cast as Jack Sparrow, was anyone talking about Depp as an all-star headliner off of his previous films The Libertine or Secret Window?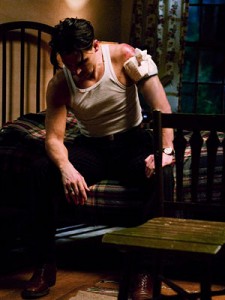 Quick answer: No.
Despite Sparrow's re-arrival with his unexpected quirks ("a gay pairate!?") Sparrow was simply a characiture of eccentricities… but for what? Depp fopped and fayed and lurched around the poop deck– but where did this behavior ever pay off in the film beyond quirky enjoyment? It didn't. Ever. And while that defiantly worked for the Pirates series, the subsequent overuse of Depp's weirdly unexpected window dressing is coming off more and more like playtime dressup which is maddening, because Depp can act.
So here comes Alice in Wonderland.
From everything I've seen thus far in the promotional materials for Alice In Wonderland, it's clear that Depp is returning yet again to the annoying, pointlessly-eccentric histrionics that have marred recent performances like his widely-hated Willy Wonka. The stupid makeup, the wigs, the lisp, the precious mannerisms … they all indicate another wasted effort from this once-promising actor.
"Once-promising" is far too intentionally defeatist– Depp crossed the barrier of spring chicken "promise" to earned "deliverance" a long time ago. For a recent example of Depp's skill, Public Enemies is a rental away. Depp's portrayal of John Dillinger is a performance that rooted Public Enemies in accessibility and rescued it from the stoically procedural; it's a a performance of swagger, bravado and vulnerability. And it's exactly those performances that inspire my exasperation when Depp trots out another goofy fop.
Johnny Depp has gravitas and chops. I disagree with the articles point that Depp is being "ruined", but it's past time for him to give the gimmick-laden Tim Burton and Jack Sparrow performances a very, very long break. Here's to that sabbatical starting with his next,
The Rum Diary
.