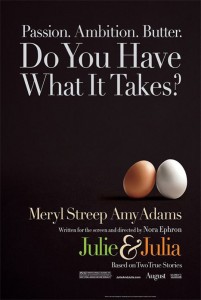 I've been to New York City twice in my 35 years, once for business and then again last November to run the 2008 ING New York City Marathon. Both trips to the city did nothing but foster my fondness and awe for The City that Never Sleeps. From running through Brooklyn and Queens on a crisp autumn morning with 50,000 other runners, to looking down from the Empire State Building at the sea of stars that is Manhattan, to eating a cupcake from Magnolia Bakery or a slice of pizza from Lombardi's, it's fair to say in a rather clichéd fashion – I love New York.
You know who else loves New York rather passionately? No, not Plaxico Burris or Isaiah Thomas, but writer/director Nora Ephron. You know Ephron from her screenwriting genius with 1989's When Harry Met Sally and her best effort in the director's chair with 1993's Sleepless in Seattle, both heavily imbued with New York City. Ephron hasn't had a legitimate hit since those movies, directing Michael, You've Got Mail, Lucky Numbers and Bewitched, all of which failed to dazzle the critics and the box office. You might argue You've Got Mail was a hit, but I hate that movie, so you're wrong, I'm right and you can shove it.
Julie & Julia is a return to form for Nora Ephron. It's a smart, dialed-down character-powered movie that's high on detail and warmth. It feels a lot like When Harry Met Sally, and is certain to join the pantheon of other great food-themed movies (see: Chocolat, Eat Drink Man Woman, Like Water for Chocolate, Woman on Top, Tortilla Soup and Big Night). Ephron's new movie is based on two books – Julia Child's autobiography, My Life in France, and from Julie Powell's blog (The Julie/Julia Project) turned book Julie & Julia: 365 days, 524 Recipes, 1 Tiny Apartment Kitchen. By all accounts, I'd say this is the first movie spawned from a blog. It gives me hope that one day we'll see an Andy at The Movies movie, starring Tom Cruise and Ben Affleck, where two guys who love movies beat the crap out of this douchey vampire named Edward. Of course that sounds more like a Uwe Boll movie than something artistic from Nora Ephron.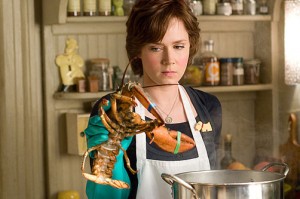 Amy Adams (Enchanted, Doubt) portrays Julie Powell, the Long Island blogger who, around her 30th birthday, decided to tackle Child's Mastering the Art of French Cuisine cookbook and then documented her efforts every day for a year. This was back in 2002, before the web was flooded with blogs and the Me-Me-All-About-Me, Facebook-MySpace-Twitter generation clogged the Internet with all sorts of crazy shenanigans. Adams does an admirable job as Powell, but there's just not much to the character and I think Ephron knows that. Adams is used more as an anchor point to relay Julia Child's amazing life and extraordinary personality. As I've said before, I just want to squeeze Amy Adams' cheeks and give her a big fat hug. She is so damned adorable that if she was covered in blood and carrying guns and knives, I'd still let her babysit my kids.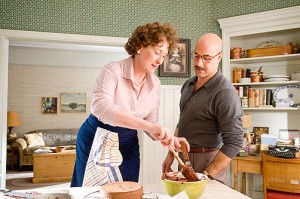 The real gems of Julie & Julia are Meryl Streep (Mamma Mia!, Doubt) and Stanley Tucci (The Devil Wears Prada, The Lovely Bones). Streep is absolutely fantastic and is without a doubt the best character actress in Hollywood. Tucci is cut from the same cloth as Gary Oldman (The Dark Knight) – he doesn't necessarily mesmerize, but his supporting efforts make the movie. The duo is so steady and solid that you can't help but feel the love and adoration Paul and Julia Child had for each other. And really, that's what this quiet, charming movie is about: Love and determination. The Child's were deeply in love and Julia, despite countless setbacks and discouragements, never gave up on her dream.
By way of content, this movie is PG-13 but I can't see any child wanting to catch this with their parents. I think most would fall asleep. Content-wise, there is some language (including, to my recent memory, the only use of the penile "rooster" word in a PG-13 movie) and some sexuality, but it's all fairly mild.