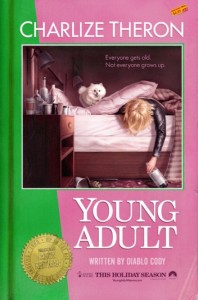 Juno is easily one of my favorite movies of all-time. There are a lot of haters out there who thumb their noses and sneer at how beloved the movie is, thinking its success and accolades were nothing more than trendiness run amok, but I beg to thoroughly disagree. The foundation of Juno is heart and truth and when both those are the bedrock for comedy, the emotion of the movie is hammered home and this was easily evident in both critical and non-critical acclaim.
That's the long way of saying the director and screenwriter duo behind Juno, Jason Reitman and Diablo Cody, have teamed up once more for Young Adult, due in theaters on December 16, 2011, just in time for awards season. And judging by Reitman's track record (Thank You For Smoking, Juno, Up in the Air), the possibilities for Oscar love are pretty high. I'd say the same thing about Diablo Cody, whom, as a writer, I adore, but then she needs to answer for the dreadful Jennifer's Body. Let's hope this is her comeback and then we can hang Megan Fox for said craptastic  my-best-friend-is-a-man-eating-demon bomb in 2009.
Young Adult stars Charlize Theron(The Road), Patrick Wilson (Insidious) and Patton Oswalt (The Informant!), with Theron playing the main character, Mavis Gary, a writer of teen literature who, after her divorce, comes back to her hometown to reclaim her old high school sweetheart (Wilson), who happens to be happily married. During this chaos, Mavis forms an unlikely friendship with a former classmate (Oswalt) who also has run into problems leaving high school behind.
I enjoyed the trailer and this red band clip was so-so, but I'm a little undecided on how this movie will play out. I'm optimisitc, but I haven't seen anything to buoy my hope quite yet. Check out the trailer below and let me know your thoughts.