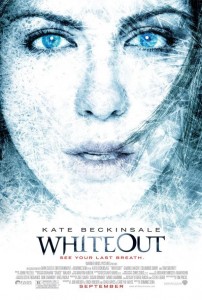 I won't make any apologies for lusting after Kate Beckinsale. I just won't. If she showed up and my door in her get-up from Underworld and Underworld 2, I wouldn't even bother flipping a coin. And given my wife's love of vampire movies, I'm pretty sure she'd just let me go at that point, maybe even with a "good luck" or something like that.
Irregardless, Miss Beckinsale is yummy in both the trailer (which showed before G.I. Joe: The Rise of Cobra and I'm sure all the parents were excited to have their kids see a naked, but blurry, Beckinsale in a hot, steamy shower) and this pretty sweet poster. Click on the poster for a biggie-size version of cute Kate, or check out the trailer by following this link.
The movie, which hits theaters on September 11th, is based on a comic book of the same name. Beckinsale plays Carrie Stetko, a U.S. Deputy Marshall investigating some strange murders in Antarctica . She's only got a few days before the arctic winter closes in, so she's got to move fast! Tense! Sexy! White! Can't wait!