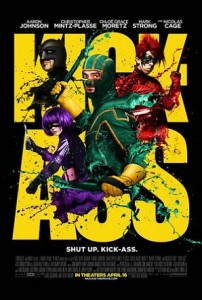 Maybe I'm a filthy old man, but there's something absolutely hilarious about a spunky 13 year-old girl (Chloe Moretz) spouting spicy dialogue that would make a sailor blush. The only problem is will the shock-value of Kick-Ass, coming to theaters on April 16, 2010, be the foundation for the film, or simply the cherry on top? My hope is the latter, especially considering what looks to be strong, quirky, memorable performances from Nicholas Cage and Mark Strong.
If you haven't guessed from the trailers, the plot of Kick-Ass centers on a teenage boy, Dave Lizewski (Aaron Johnson) who decides to become a real-life superhero. He goes by the name Kick-Ass and is soon joined by Hit Girl (Moretz), Big Daddy (Cage) and Red Mist (Christopher Mintz-Plasse). I would be lying through my teeth if I said I was absolutely and unequivocally looking forward to April 16 like a six year-old looks forward to Santa Claus on December 25.
Take a peek at the newest red band trailer below and give us your thoughts. Me? I likey.