Better late than never.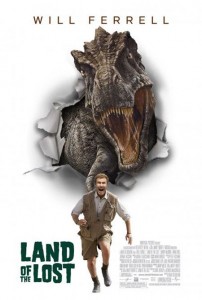 Just when I think I'd rather take Indian burns to the tenders than endure more of Will Ferrell's deadpan-obvious doofus shtick, I forgo the pain of a thousand suns and willingly settle into comedic familiarity. Which means A) I'm not as tired of Will Ferrell as I thought, or B) Will Ferrell remains funny despite diminishing returns. After viewing Land of the Lost, I'm convinced it's "B".
If you didn't exist in the magical time period that birthed me and Andy (known to historians as the mid to late 70's), Land of the Lost was a corntastic Saturday morning adventure originally aired 1974 to 1976. The goofy-played-as-serious half hour followed the time-warping adventures of the Marshall family and their run-ins with rubber dinosaurs and hissing lizard-men (Sleestaks). For those who do remember it,  Land of the Lost is recalled with nostalgic fondness… but here's the real world rub: no one under the age of 30 has any connection to it and everyone over the age of 30 could care less about revisiting it beyond the occasional "remember that one show…?" conversation. There's probably a LOTL contingent out there which, in addition to Will Ferrell's attachment, helped fueled Universal's drive to produce and fund this movie (I'm looking at you, Execs), but I'm not sure where anyone thought there was ever broad audience demand (I'm looking at you, Execs).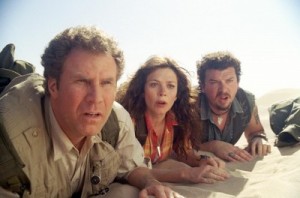 LOTL: 2009 largely sticks to LOTL: 1974's otherworldly premise and sci-fidelic weirdness, but quickly eschews the original Saturday-morning-friendly premise of two kids and Dad warped to another dimension to make friends with a hairy cave-kid (Chaka) while camping and running from danger. Instead, audiences are now treated to the premise of a redneck, smart hottie and Will Ferrell warped to another dimension to make friends with a horny, hairy cave-teen (Chaka) while experimenting and running from bad jokes.
The whole affair kicks off in cookie-cutter Will Ferrell style: after being publicly shamed on his theory of Time Warps by a jerktastic Matt Lauer, Dr. Rick Marshall (Will Ferrell) lands on hard times, reduced to middle school presentations and enduring verbal lashings by movie-obnoxious kiddies. That is, until he's visited by science groupie Holly Cantrell (Anna Friel), who's smart, wears a mean tank top, believes in Marshall's time warp theories and has the proof –and expulsion from Cambridge University– to prove it. Together, they clomp off in search of concrete scientific evidence, thanks to a time warp energy locating device that randomly plays Broadway's A Chorus Line pleading anthem "God, I hope I get it. I hope I get it!!".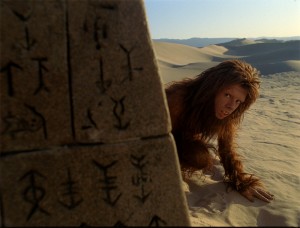 The search leads them to a remote desert amusement park and tunnel-of-love style boat ride/gift shop operated by Danny Mcbride Will Stanton (Danny McBride).  With time warp power emanations being picked up from inside the ride, Rick and Holly sign up for a Stanton-guided tour. Inside, Dr. Marshall's locating device sets off a time warp that plunges the three into a time warp receptacle (aka- the land of the lost), complete with hairy monkeymen, dinosaurs (one of which sets off a humorous contest of wills between T-Rex "Grumpy" and Dr. Marshall) and the bugeyed Sleestak lizard-men.
Thanks in large part to the film's family-focused marketing, the expectation going into Land of the Lost is going to be the precursor to the the type of viewing experience audiences will have. In short, Land of The Lost is not a family film. Potty-talk, sex jokes, boob groping, envelope riding PG-13 language (including an F-bomb) and innuendo abound. Similarly, Land of the Lost is not a love-letter remake of the original kids show. While it pays homage to its inspiration, Land of the Lost exists almost entirely as a subversive Will Ferrell/Danny Mcbride comedy showcase.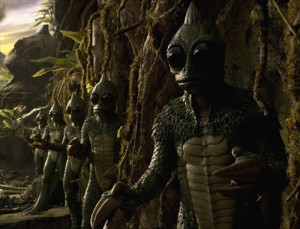 Not that it's all Ferrell/McBride. Getting back home to Land of the Not Lost takes up the whole of the second and third acts and LOTL does have its share of adventure (which is generically enjoyable) — but it does spend far too much time milking its stars improvisation, leaving a film with pacing that feels more like a loping flat tire than a smoothly running narrative. Only occasionally does LOTL check back in to the plot to move the story along. It's as if director Brad Silberling (director of the off-beat and visually arresting Lemony Snicket's a Series of Unfortunate Events) was a hollow directorial nameplate allowing Eastbound and Down writer Chris Henchy and SNL writing alum Dennis McNicholas to indulge Will Ferrell and Danny Mcbride in reprising their increasingly tiresome "I'm cooler than no one thinks I am" and "I'm Camaro redneck America" roles. Thing is, that's ok. It's just not what audiences were sold or will expect– which is exactly what causes it to stumble against false expectation.
And yet, I semi-appreciated the whole mess. Yes, many jokes fall seriously flat, but I guarantee much more enjoyment if you, sans kids, view it as a Danny McBride/Will Ferrell helmed send-up of LOTL with some weird and campy visuals thrown in—and while the visuals have taken a round of beatings for their cheap look,  considering the cheap source material the movie is born from, they appropriately suit the film. In fact, I enjoyed the CG T-Rex Grumpy, the very obvious sets and even the Sleestak upgrade from men in seam-filled rubber suits to men in seamless rubber suits.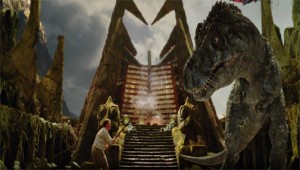 But don't take that as a glowing recommendation. If you're determined to see LOTL, or are simply curious, I wouldn't recommend anything but a matinee price or even rental when the time comes. Judging by the trailers, this movie looks like it has a load of cut material that didn't make theatrical distribution. Like an audience, these scenes may find their way back to DVD, which is probably where this movie should have been released in the first place.