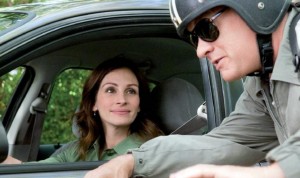 Amongst all the talk of nuclear reactor meltdowns, earthquakes, tsunamis and civil war in Libya, a trailer for this summer's Larry Crowne hit the web yesterday, and I have to admit, I'm sold. Maybe a leprachaun spiked my Red Bull, or maybe it's the bright blue skies hanging over Northern Utah today, but I doubt it. It would seem the chemistry and the comedy shared between Julia Roberts and Tom Hanks shines through full-force in this romantic dramedy, which is also directed by Mr. Hanks (he co-wrote the movie with My Big Fat Greek Wedding star, Nia Vardalos).
The premise of the movie is pretty simple: Tom Hanks plays the title character, Larry Crowne – a middle-aged man who is fired from his job for being undereducated. Crowne goes back to school and, in the process, not only befriends people half his age, but also falls in love with his public speaking professor, Mercedes Tainot (Julia Roberts). Sounds a little trite, but from when a movie is built on chemistry and character it's easy to forgive a cheesy story.
Take a peek at the trailer below. Larry Crowne comes to theaters on July 1, 2011.