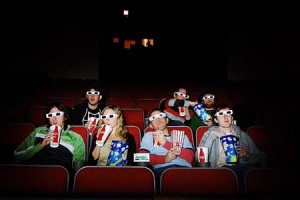 Whatever your reason for wanting to hit the cinemas this weekend, one thing is certain – the pickings are slim. Cache Valley welcomes Gamer (R), All About Steve (PG-13) and Extract (R) to the already stale lineup of lingering summer flicks and last week's mediocre fare, The Final Destination (R) and Halloween II (R). We have no reviews this week, so if I were you, the following movies now playing would be the best bets for your dollar:
Extract (R, Movies 5): You can't go wrong with Jason Batemen, Mila Kunis, a bearded Ben Affleck and J.K. Simmons in a comedy from Mike Judge (Office Space). It's received better reviews than Gamer and All About Steve, which Sandra Bullock is hoping to affix to the coattails of The Proposal's success.
Ponyo (G, Movies 5): I'm surprised this animated film from Hayao Miyazaki (Spirited Away) is seeing the light of day in Logan, so if you're interested, I'd catch this one while you can. It'll most likely be replaced by Sorority Row next Friday.
Inglourious Basterds (R, University Stadium 6): Not for the faint of heart who may be squeamish toward some graphic violence, but easily one of (if not the) best films of 2009. Brad Pitt and Christoph Waltz are just a handful of acting performances that make this film nothing short of superb. Bravo to Quentin Tarantino.
District 9 (R, Providence Stadium 8): Didn't quite live up to all the hype, but easily one of the best sci-fi movies to hit theaters in quite some time. Original storyline, great directing and top-notch special effects make this an easy pick.
G.I. Joe: The Rise of Cobra (PG-13, Providence Stadium 8): Nothing more and nothing less than pure dumb fun. Chocked full of explosions, gunfire, sword fights and lame action movie one-liners, if you missed this in August, it's worth checking out. Just make sure to check your high expectations at the door.