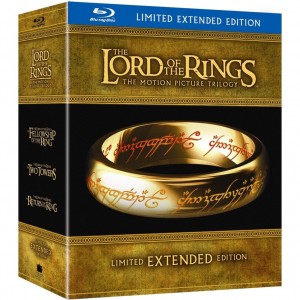 The Lord of the Rings Blu-Ray Limited Extended Edition is slated to be released on June 28th.  TheOneRing has reported that the extended editions of all three LOTR films will be re-released in to AMC theaters.  On June 14th The Fellowship of the Ring: Extended Edition will hit theaters, followed by The Two Towers: Extended Edition on June 21st, finishing up with The Return of the King: Extended Edition on June 28th (the same day of the Blu-ray release.)
The Limited Extended Edition Blu-Ray is set to cost $119.98, and will include 15 discs filled with bonus features. Of the 15 discs only the six feature film discs are Blu-Ray, the  others are normal DVD format. The set will also include digital copies of all three films, along with the same bonus material included with the Blu-ray theatrical version's released in 2010.  There were complaints around the web last year following the release of the theatrical editions on Blu-ray, claiming the transfers to Blu-ray were mediocre at best.  Peter Jackson has claimed he wasn't involved with the transfer to Blu-ray, and with his current focus on The Hobbit, it is doubtful he had time to oversee the extended edition transfers. While this may be your 6th boxed set of LOTR films, it will most likely not be the last.  The Hobbit is set to be released in two parts beginning in December 2012.  It's likely you can expect a new wave of Middle-Earth boxed sets sometime around 2013 following the release of The Hobbit Part 2 in theaters.
Which excites you more, a Blu-ray or theatrical release of the extended editions of LOTR?