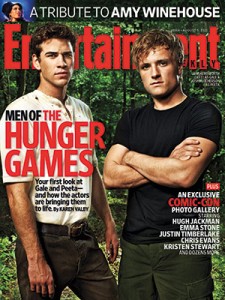 Entertainment Weekly revealed their recent cover of Peeta (Josh Hutcherson) and Gale (Liam Hemsworth) from The Hunger Games movie a few days ago, and now they've dumped some more juicy images to turn every Hunger Games fan's underwear into a moist towelette. That's right. Grab your adult undergarmets STAT!
Okay, that might be stretching the excitement a little too much, but the small gallery below should be enough to excite or anger fans of Suzanne Collins' action packed dystopian novels, The Hunger Games, Catching Fire and Mockingjay, soon to be released in – not three, but four movies! The first installment, The Hunger Games, hits theaters on March 23, 2012. As I said in my post a few days ago, I think it's only a matter of time before we see a teaser trailer.
What do you think of the images below?