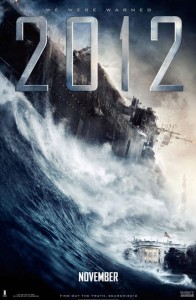 I'm not going to waste your time or space on AATM with an elaborate review of 2012. All you need to know is Roland Emmerich continues his 13 year end-of-the-word-destruction fetish, this time linking the end of the Mayan long count calendar on December 21, 2012, to solar flares and aligned planets that spell sayonara to Mother Earth via earthquakes, volcanoes and massive tsunamis.  And, in the end, this almost three-hour movie has nothing to offer but a few mildly eye-widening destruction scenes, and even those feel like a been-there-done-that. You're probably safer renting Independence Day and The Day After Tomorrow and watching them back-to-back.
Some critics have called 2012 a "fun ride," "disaster porn" and "the best bad movie in years," and I'm just not sure how those comrades can make that claim. I get the idea of a popcorn movie. I'm completely fine with implausibility, silliness and campiness, but those aren't the problems facing 2012. No, Emmerich's movie has atrocious character development and acting; I literally didn't care who lived or died. Its story and its layout are choppy and confusing; Emmerich could have completely cut the first 20 minutes of the film and viewers wouldn't even notice the loss.  All of these weaknesses are amplified by the sheer length of 2012. At nearly three hours, I was praying to God he'd end the world in 2011.
That just about sums it up. 2012 is a SyFy Channel movie, just with better CGI. I'd pass on paying full price for a ticket and you may even want to pass when it arrives on DVD and Blu-ray. One thing is for sure – if you go, don't take the kids. Not because they'll be scared or see anything offensive, but mainly because no parent should have to pay for their kid to take a nap.