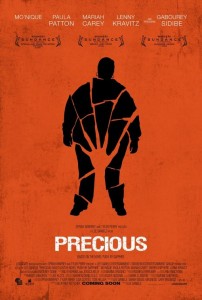 Precious is an exercise in endurance. It's a film intent to look you in the face with no intention of sparing any modicum of pain, hurt and unbearably selfish horror. Even the title itself is a tragic blow– a name with inherent meaning that's been melted under the acidic wash of fate to become a mockery. And yet, it's also a reminder of individually infinite value. So Precious goes: an experience almost wholly unpleasant but one where, by the end, director Lee Daniels serves a glimpse of life worth living when wrestled back from the punishing suffocation of despair.
Clareece "Precious" Jones, as played by Gabourey Sidibe, is a 16-year-old living up to the insults of her cruel and damaged mother in 1987 Harlem. Her escape in times of absolute darkness are bright, shining daydreams where she's salivated over by a boyfriend, loved by all and famously fabulous. Her life, a hodgepodge of servitude, insult, incestuous rape and self-loathing only serves to keep Precious in her place and at her mother's side.
Precious' mother is Mary, a self-obsessed woman who has allowed perpetrated evils to spread into everything she knows. As played with disarming power by an almost unrecognizable Mo'Nique,  it's one of several performances (including Gabourey Sidibe as the subtle and restrained Precious) that cement Precious as a stand-out. Her immersion in the role is stunningly raw, a performance that jettisons any pretense of glamor and replaces it with self-effacing dedication. Still, beneath the ugliness, there was once a young woman who had a daughter so cherished to receive the name Precious– because at one time, she was.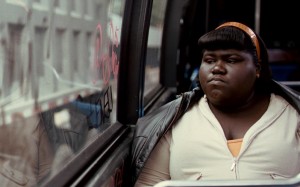 Director Lee Daniels shows a sure hand in his direction, coaxing, or at least allowing, the previously mentioned cadre of Oscar worthy performances while skillfully punctuating the proceedings with unnerving and at times beautiful cinematic flourishes. In a painfully uncomfortable scene–intentionally made more so by jump cuts and oily close-ups– the camera cuts to the ceiling, which then comes apart to reveal a gold tinged escape route into Precious daydreams– an escape that's as essential for her as it is the audience. It's a mercy moment as provided by both Daniels and Precious; and it's a demonstration of Daniels ability to infuse our experience with that of Precious.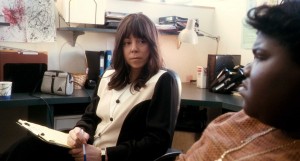 To some relief, there are real respites in misery as Precious finds a path out of the darkness beyond her fantasies. Thanks to a second pregnancy at the hand of her father, she's placed on a path that guides her into the lives of others with a softer touch. And while these characters include a list of names (Mariah Carrey, Lenny Kravitz) that could otherwise be distracting, their appearance is so subtle and unglamorous (in every sense of the word), you might be hard-pressed to even recognize them. And while a tragedy to end all tragedies is thrown Precious' way toward the end of the film– expressed in heart-breakingly fantastic scene with which her shining dreams are washed away as her mother walks through them– she remains able to glimpse a bright, reality-based dream. It's here that viewers will find some kind of hope and uplift to cling to, despite all its bittersweet allusions.
As with many films dealing in circumstances that involve people who aren't white, there's a misguided backlash* against Precious. Critics assail it as the worst kind of stereotypical pap- a broad-stroked painting of typical black American life built to appeal to "white guilt" and an elitist sense of superiority. It's a paltry argument, not the least because it's based on the insistence race is defined by a single series of events and circumstance in a film that could easily be transposed to any girl in any societal station.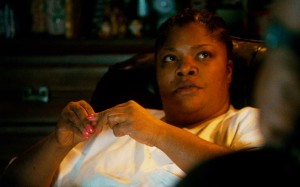 To even label this film as a treatise on race or perpetuation of the basest of black stereotypes is so myopic as to be dismissed outright. As the argument goes– this isn't "Black America". It's a slice of American experience. Precious isn't a "typical black girl" growing up in Harlem- nor is that ever offered as a statement of fact. She's simply an audience lens to individual story.
Precious doesn't receive recommendation and praise based on "white guilt" or shallow relief sympathy. Precious garners my praise because it deals in hard, painful truths. Truths that may not be universal but are certainly individual and in my life experience, even more certainly real. I've been in the dark, grimy homes as depicted  here. I've met Precious. She lives in a dilapidated apartment above a liquor store in Charleston, South Carolina. Her mother beat her. Her brother beat her. She suffered sexual abuse. The child she had at 16 is the ray of light in an otherwise diffused world. And while her situation may not have been representative of the whole, it was very real. And, like the young girl in this film, she was precious too.
Don't confuse Precious with either rosey-ended uplift or a treatise on race. Do know that it's an artisticly viable, heart-crushing and grim-with-silver-lining treatise on humanity. A treatise congealed to produce a winning, cinematically searing experience that's hard to forget.
*For alternative opinion, read Armond White's thoughtful review here.