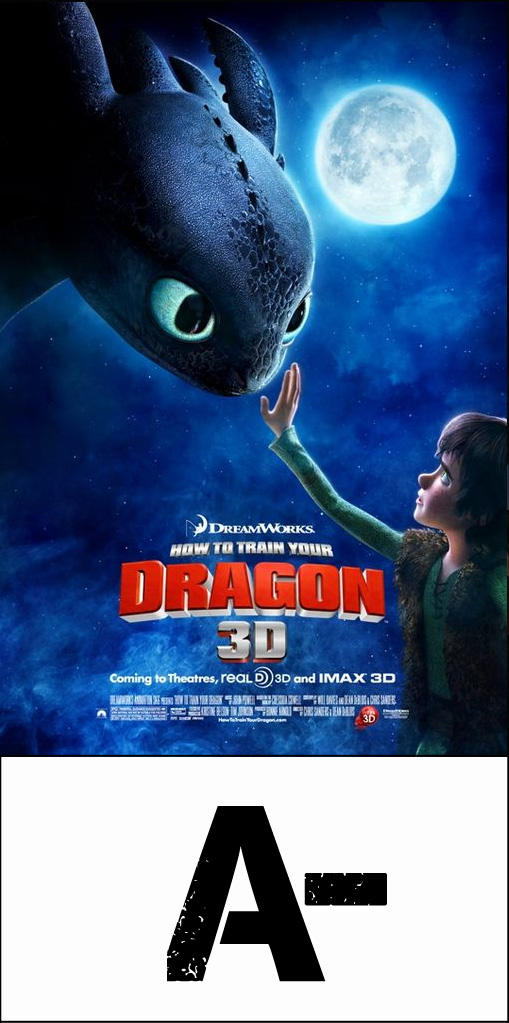 Between Kung Fu Panda and How To Train Your Dragon, Dreamworks Animation is on to something. Thankfully jettisoning the  "story built around jokes" framework that's been their bread and butter since Shrek, How To Train Your Dragon hews more closely to the better connective practice of building an emotionally resounding story. The result is an animated family film that follows a predictable "find your place in the world and teach your community a lesson in the process" trope, but does so with warmth, charm and energy. It doesn't hurt that 20 year Disney alum Chris Sanders (Lilo and Stitch, American Dog before it became Bolt), is one of the directors and character designers.
Based on the books of the same name, How to Train Your Dragon plays more as a prequel than actual adaptation, introducing us to the wannabe Viking whelp Hiccup (Jay Baruchel) and Berk– the island of burly, hairy Vikings he calls home. Saddled as an apprentice to the town's blacksmith, Hiccup pines for dragon-slaughtering action– the kind his ancestors have enjoyed for 300 years. The desire to prove himself isn't heartfelt as it is to impress his Dad, King Stoick the Vast (Gerard 'Thank you for letting me use my accent" Butler) and land a date with the local hottie Astrid (America Ferrera). Unfortunately, Hiccup's a skinny sissy who uses his head for thinking instead of bashing– a habit the townspeople are sure won't help when multiple dragon species raid the village and make a mess of things.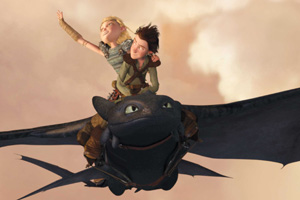 Luckily, nerdery comes in handy when Hiccup invents a weapon to catch dragons and bags the most feared (yet never before seen) Night Fury. But when Hiccup approaches the dragon, his soft sensitive feelings get in the way and instead of killing the Night Fury, he names it Toothless. From there, How to Train Your Dragon becomes a boy and his dog story, with a charming relationship of trust and understanding developing between the two. Using his new found understanding of dragons to pacify instead of kill, Hiccup becomes the village hero until his dragon pal secret is discovered.
Thanks to cinematographer Roger Deakins, How To Train Your Dragon is an eye popper. Deakin's cinematic style uses light play and color complements that are oft-times breathtaking. The character design refreshingly eschews Dreamworks usually ugly choices and offers an appealing combination of Chris Sanders' round curves with Nico Marlet's (Kung Fu Panda) low-eyed, sharp angles. By film's end, kids will be clamoring to nuzzle up with Toothless.  John Powell's score is touching and plucky where it needs to be and the voice acting (including Apatow guy Jonah Hill, Late Night's Craig Ferguson and go-to geek Christopher Mintz-Plasse) is naturally unobtrusive.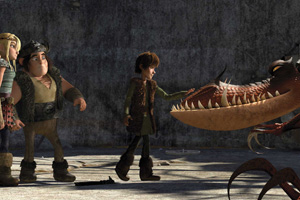 One of the most trumpeted aspects of this film will be its seamless and kinetic flight sequences. In 2D they carry an energy that soars. Word is, seeing them in 3D is nothing short of magical.
Still, the heart of the story lies in the relationship that develops between Toothless and Hiccup and the total wild-yet-emotionally accessible artistry the animators give the dragon. It's a satisfying, charming and visually fulfilling narrative that's equal parts exhilarating adventure, rapturous wonder and smile-inducing heart.