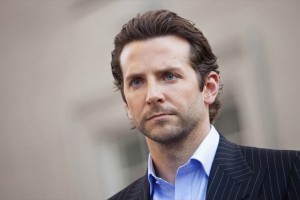 I hate Bradley Cooper. I really do.
Why, you might ask? Oh, I won't beat around the bush at all. I hate him because he's a handsome bastard and makes all the ladies go gaga. I'm 36, rock the love handles and my hair is turning grey, while Mr. Cooper is 36, svelte, has a hairdo that reminds Pat Riley of the golden years, and is one of only a handful of men who can routinely not shave and still look dapper. Yep. I hate him.
On the other hand, as a movie lover, it's hard not to notice Cooper's rise to stardom. From his attention-grabbing role as Rachel McAdams' douchey boyfriend in 2005's Wedding Crashers, to his role as Phil, the reckless, womanizing, best friend in 2009's The Hangover, and then last summer's stand as Face in the big-screen version of The A-Team, it's easy to see Bradley Cooper is a certifiable Hollywood star. His new movie, Limitless, while not earth-shattering, does nothing to harm his career. Fans of The Hangover will get another dose of Mr. Cooper this May when The Hangover: Part II roles into theaters.
In Limitless, Cooper plays Eddie Morra, a semi-alcoholic, aspiring writer who is more on the verge of becoming a hobo – especially with his grungy, sweaty, Kurt Cobain haircut – than a bestselling author. His apartment looks like he's ready for the A&E show, Hoarders, and his girlfriend, Lindy (Abbie Cornish), dumps him because she's moving onward and upward (while he's standing still) and is sick of being his maid and his bank.
Teetering on the edge of rock bottom, Eddie runs into his old brother-in-law, Vernon Gant (Johnny Whitworth), and the two have a drink together. Vernon, who looks slick and seedy, realizes Eddie is struggling and offers him a way out via a new drug called NZT, a tiny clear tablet that, when swallowed, engages parts of the brain we normally don't have access to, essentially turning the user from mediocre to monumental in 30 seconds. This happens for Eddie, who finishes his book within a week of taking the drug, cleans up his apartment, gets a haircut, new clothes and begins to rub shoulders with New York's notables, including Carl Van Loon (Robert De Niro), a powerful businessman.
The only problem? Somebody killed Vernon looking for the drugs and now Eddie is being followed and watched, and as he gets more and more dependent on NZT, he  discovers others who have become hooked on NZT and they aren't doing so well – most are sick, like his ex-wife (Anna Friel) and some are dead. Struggling to maintain the exorbitant life he's created for himself via the drug, Eddie delves deeper into darker and seedier territories, including Russian thugs, murder and, finally, politics.
Limitless is based on the novel The Dark Fields, by Alan Glynn, and is directed by Neil Burger. That name might not jump off the page, but if you've seen 2006's endearing and surprisingly good film, The Illusionist, then you know that Burger can fit the pieces together nicely and come-out-of-nowhere with a solid movie. And that's just what Limitless is: A solid, entertaining, well-acted thriller. Coming off last week's mind-numbing Battle: Los Angeles and brain-cell-erasing Red Riding Hood, this movie is a welcome relief.