Robert Downey Jr. has become a force of nature. Once just a great actor, the dude has seen his career resuscitated into the open arms of an adoring public who now sees him as their cinematic best friend to giddily bury under spade fulls of lavish praise. If there's any doubt Downey Jr.'s charm and dynamism will single-handedly open Sherlock Holmes to fat gobs of cash while allowing director Guy Ritchie a leg up and out of his London Gangster limbo, it's from idiots. Still, while Downey Jr. is an Alpha vortex personified, his onscreen largess only serves to magnify how listless Holmes: 2009 would be without him.
Ditching the detective hat for a ruffled mop of 2000-vogue bedhead, 5 o'clock shadow and fisticuffs, Downey Jr. effortlessly breathes new life into the famed Detective of Baker Street in the resurrection of Sherlock Homes— a standard movie by all counts but one elevated from bore to pleasant distraction by the sheer power of Downey Jr.. Jude Law keeps pace as the bowler hat wearing, mustachio'd sidekick and maybe-more-than-a-friend Watson (now with chop-sockey action), while McAdams–for all her sex appeal and on-screen magneticism displayed in other roles– is utterly lost in Downey Jr.'s wake as muse Irene Adler.


After years of sleuthing across foggy, dark and grimy Londontown, Holme's career seems to be winding down after nemesis Lord Blackwood (an unintimidating Mark Strong) is captured and hung. As it turns out, Watson is actually straight (or creating an overly elaborate beard) with plans to be married. Unfortunately for Watson, Holmes is doing his best to undermine the new marriage and is going stir-crazy with a lack of juicy mystery when one is plopped in his lap. Holmes' lady-love/heartbreaker Irene Adler is back in town and Lord Blackwood and his mean snaggletooth aren't quite as dead as onlookers, including Dr. Watson, thought.  Always one to deduce, Holmes smells something nefarious and commits himself to the case of the "Supernatural Bad Guy Intent to Rule the World".
Sherlock Holmes retains the air of horse-drawn, top-hatted oldtimery in visual only. The new Holmes has received some adrenaline juice with a boom, boom, pow sense of modernity. After all, thinking is boring and 21st century audiences demand some ass kicking. But here's one of a few problems: for a movie about a detective, Sherlock Holmes never has much mystery.
Oh sure, there's a mystery, but in the end you know it will all be explained and the mask removed to reveal a fist-shaking Mr. Rumplebottom vowing he could have pulled it all off it weren't for that meddling kid. There's little tension in this modern day Holmes. Everything is spoon-fed via a plot that isn't propelled by the unraveling of mystery so much as it is flying fists of English fury, moments of peril and chases. Holmes legendary deduction, once a breadcrumb to the audience, is simply exposition to allow Holmes and Watson (who, while looking like a dandy fop in the poster, can beat some hoodlum ass) to crack some cranium.
To its credit, the deduction does work very well when visually employed in two scenes where Holmes preemptively deconstructs (with the aid of Guy Ritchie's trademark crosscutting and acceleration shots) a couple fights where he incapacitates two bruisers. However, the rest as it pertains to the plot-central mysteries is never earned– it's just given.  This decision sucks all mystery and suspense from the movie; there's never a need to deduce or wonder. The answers are always forthcoming.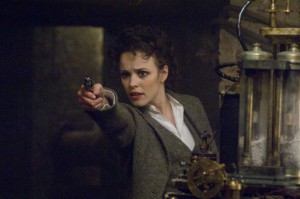 Director Guy Ritchie (Rock-n-Rolla, Snatch) brings some trademark flourishes to the previously mentioned bone-crushing– scenes of dynamic on-the-fly logic the film could have used more of–, but directs Holmes in such a generic manner, even the most die-hard Ritchie fans could be forgiven for missing his fingerprints. This vanilla approach belies the whole movie. Sherlock Holmes is an unapologetically constructed studio product with a mainstream franchise aim. So much so that it feels machinated with its dry plot, a milquetoast villain, a setting that feels stale (London's never looked so brown, dreary and grimy) and a plot little different from a similar feeling movie: The League of Extraordinary Gentleman.
And yet, Sherlock Holmes isn't lowest common denominator and moves well enough along to warrant a night's entertainment– all of which narrowly save it from a "C". The Watson-Holmes buddy buddy combo and (can I mention it again?) Downey's charisma carry the film and save the day a revival that's both boring and entertaining at the same time. Hans Zimmer's memorable violin plucked score plays a clever and interesting part in subtle tribute to Holmes' literary history as a violin virtuoso and almost becomes a character in and of itself. There's some interesting subtexts in Holmes about using fear to control whole populaces in the wake of terrorism and logic/science punching illogical religion in the what's-it,  but they wind up as throw-away bylines instead of receiving fuller exploration.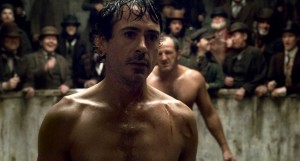 In the end, Sherlock Holmes is a movie that's both exciting and boring, full to bursting and empty. Sherlock Holmes entertains, but doesn't resonate more than two minutes after leaving the theater, much less inspire a desire for second viewing. It's empty spectacle akin to Superman Returns and King Kong— both widely seen blockbusters, but both with little mental staying power beyond a casual notice of their place in the DVD bargain bin just a few years later. Holmes is set to share the same fate.