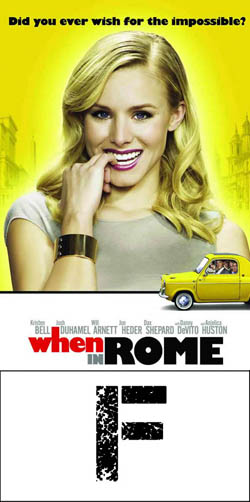 When in Rome is an absolute travesty of a movie and so painful and upsetting that a night of reveling in latex and sadomasochistic groin clobbering would be a preferred alternative to the sheer misery of this so-called romantic comedy starring Kristen Bell (Couples Retreat) and Josh Duhamel (Transformers 2: Revenge of the Fallen). 29 days into 2010, it is now cemented as the worst movie of the year thus far and easily the crappiest thing to come to multiplexes since I Love You, Beth Cooper.
I know, right? This is supposed to be a cute little romantic piece of celluloid sugar, loosely based on the 1954 movie Three Coins in the Fountain, but instead it turns out to be a poop flavored stick of stale gum the director, Mark Steven Johnson (Ghost Rider), and screenwriting tandem (who wrote Old Dogs, by the way) of David Diamond and David Weissman, gleefully force feed the audience. Frankly, I probably would have been more forgiving if literally every single scene of When in Rome didn't feel cheap, uneventful, dog-eared and pointless. I am pretty forgiving when it comes to romantic comedies (see my review of Leap Year), so that I hated this speaks volumes.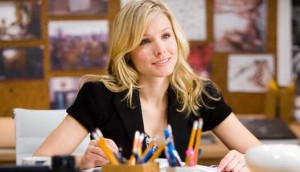 Still, why am I surprised? I warned everyone back in September this would blow when I posted the trailer for When in Rome on Trailer Tuesday. I suppose I'm not so angry about the film sucking 10 levels of Satan's prunehole, but the intentionality and nonchalant effort I feel from the filmmakers is what makes me cranky and kind of puts me at a standstill. I mean, really – what do I have left to say about When in Rome? I suppose a little info on the plot wouldn't be too bad.
Bell plays Beth Harper, a curator at the Guggenheim Museum in New York City who rocks at her job, but hasn't had much luck with romance. It could be her crazy mouth or beady eyes, but most of her boyfriends can't stand how she's married to her job. Her failure with love hits home when her little sister, Joan (Alexis Dziena), meets a handsome Italian man and announces she's getting married ASAP in Rome that weekend. Beth's boss (Anjelica Huston) gives her the stinkeye and tells her she can head off to Italy, but the big exhibit coming up better not hit any snags or she'll be fired.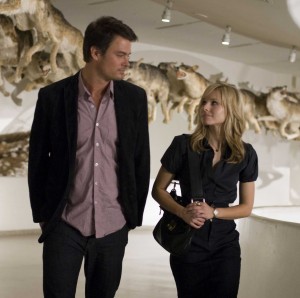 In Italy, Beth meets Nick (Josh Duhamel), a handsome sports journalist, and the two hit it off. But when Nick disappears, Beth gets sloshed and starts pilfering coins from the local fountain of love. When she returns to New York City, again intent on hanging the bird finger to Cupid, she finds herself stalked by a painter (Will Arnett), model (Dax Shepard), magician (Jon Heder) and an old sausage-selling businessman (Danny DeVito), i.e. the owners of the coins she pinched from the fountain. These characters add to the confusion and pure stupidity of When in Rome, especially Heder, who, I'm sorry, I can't believe can still find work in the industry. He is terrible, bland and unfunny and this is further amplified by a scene wherein the moronic filmmakers reunite him with his Napoleon Dynamite co-star, Efren Ramirez, for an uncredited Pedro-esque cameo.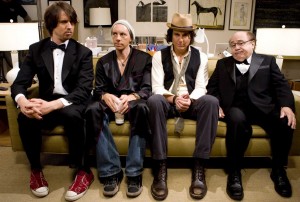 The bulk of the movie is centered on Beth juggling her burgeoning love and romance with Nick, dealing with her magical fountain stalkers and figuring out a way to pull of a top-notch show at the art museum so her boss doesn't show her the door. The problem with When in Rome is the attempts at rom-com come across as forced, tired, never-ending and nonsensical. I appreciate the idea behind the movie, but the execution comes across and overstuffed and lazy and the result is a movie I wouldn't pay full price for, nor would I ever rent for $1 at the Redbox.