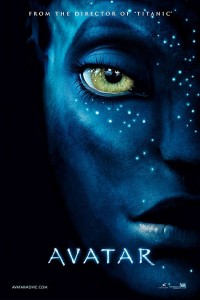 A new poster hit the web today for James Cameron's highly anticipated new movie, Avatar. This poster features Zoe Saldana's (Star Trek) character, Neytiri. This is the alien babe that Sam Worthington's (Terminator Salvation) Jake Sully falls in love with while residing as a human-Na'vi hybrid, aka an avatar, on the world of Pandora.
I don't know about you, but while Zoe Saldana is hot in the recent reboot of Star Trek, seeing her as a blue-skinned, 10-foot tall alien might not do the trick for me. James T. Kirk would be having a Cialis moment, but me, no chance. At the same time, the minute I saw this picture I immedietly thought of Cat People, the 1982 horror movie with Malcolm McDowell and Nastassia Kinski.
What do you think? Is Avatar something your anticipating this  December?