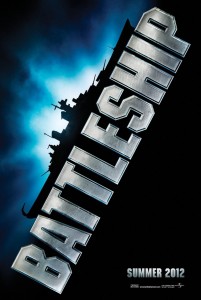 The first teaser trailer for director Peter Berg's (Hancock, The Kingdom) Battleship debuted this past July and it was, like the concept of the movie (WTF? Now Hollywood's basing movies off board games?), a complete traveshamockery. There were ships, Qui-Gon Jinn, the girl with giant hoots that dates that tennis player that looks Sean-William Scott, lots of ocean, lots of CGI and not a whole lot of anything juicy to make me want to fork out my hard-earned cash for a board game turned movie. I was kind of sad, frankly, because I like Peter Berg. He might not be a household name, but The Kingdom, Friday Night Lights and The Rundown are all fairly solid, especially The Kingdom.
Lo and behold a new trailer hit the web a few days ago and I'm recanting what I said back in July. Somebody in the Universal Pictures marketing department got his/her sweatpants pulled down and spanked with moon rocks, because this new preview, clocking in at two-and-a-half minutes, is pretty freakin' sweet. Maybe it's the Michael Bay fan in me, but aliens, big ships, buildings and cities being waylaid and sweet robotic techno music get my blood boiling for summer. This isn't an Oscar contender by any stretch of the imagination, but this second trailer makes it look cool and fun, something the first completely missed. I'm okay with Hollywood being creatively bankrupt, just as long as I'm entertained and having fun.
Battleship hits theaters on May 18, 2012 and stars Taylor Kitsch (X-Men Origins: Wolverine), Brooklyn Decker (Just Go With It), Alexander Skarsgård (Melancholia), Rihanna and Liam Neeson (Unknown). Check out the trailer below and let me know if I'm right or if I'm completely off my rocker. I say this is a must-see for 2012, what say ye?