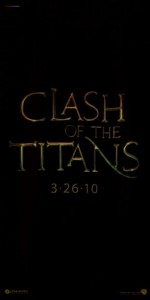 I really haven't delved too deeply into the release schedule for 2010 yet, but one movie I am absolutely looking forward to is Louis Leterrier's (The Incredible Hulk) remake of the 1981 classic, The Clash of the Titans. Next to the Star Wars and Indiana Jones trilogies, I'm not sure there is another movie from the 1980s that captivated and enthralled me as much as Clash. In fact, I loved the movie so much that in third grade I dressed up as Perseus for Halloween. We got to wear our costumes to school and my mom had made my toga too small, so instead of flashing my classmates my nubile derriere, I wore it with my Toughskins jeans and felt like a dork.
Clash of the Titans hits theaters on March 26, 2010 and boasts quite the cast. First and foremost, the name you will hear the most, is Sam Worthington, the star of the turd-a-rific Terminator Salvation and the upcoming Avatar. And while he looks like a rockin' Perseus, Worthington has done nothing to prove to me he's here to stay in Hollywood. No, I'm more excited about the supporting players in Clash of the Titans, namely, Liam Neeson (Taken) as Zeus, Ralph Fiennes (The Reader) as Hades, Danny Huston (X-Men Origins: Wolverine) as Poseidon and the lovely Gemma Arterton (Quantum of Solace) as Io. Some other faces you'll recognize are Alexa Davalos (Defiance) as Andromeda, Mads Mikkelsen (Casino Royale) as Draco, Polly Walker (HBO's Rome) as Cassiopeia and Vincent Regan (300) as Kepheus.
That's a lot of names to digest, but needless to say, I have high hopes for this movie. Apparently so does Empire Magazine, as their latest issue highlights Clash of the Titans as 2010's "hottest blockbuster." Whatever that means. One has to think we should see a trailer soon for the movie, considering its due in theaters in six months. I'm banking on a November or December trailer premiere, so until then, enjoy the pics from Empire below.