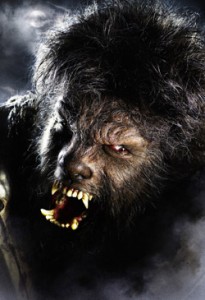 I've been tepid thus far on my anticipation of and my desire to see The Wolfman, but this new, edgier, darker trailer has piqued my interest enough that I have circled February 12, 2010 on my calendar. Not literally, of course. I'm not that nerdy, but you get my point.
Delays in the release of The Wolfman have fueled my skepticism, and I'm also not a big fan of Joe Johnston (although I did like October Sky), but a cast of Benicio Del Toro (Things We Lost in the Fire), Anthony Hopkins (Fracture), Emily Blunt (The Devil Wears Prada) and Hugo Weaving (V for Vendetta) is definitely a bonus for this remake of the 1941 classic.
I have a feeling this is going to be rated PG-13, but in my heart of hearts, I hope for an R rating. I'm not pining for an R so I can see limbs torn off and intestines gobbled up, but a PG-13 usually means CGI that borders on silly and bloodless violence propped up by a weak story and plot. That might be stereotyping somewhat because there are PG-13 movies that have meshed those elements – The Lord of The Rings is the shining example – but I can't help fear the worst.
Check out the trailer below and give us your opinion. Is this going to rock or is this going to suck?