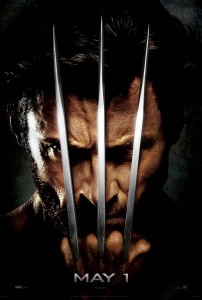 As expected, X-Men Origins: Wolverine took down the pants of all May 1 contenders and paddled their bum-parts with its box office might. Wolverine opened up with pretty much what data showed it was tracking for, roughly $87 million. Not the 100+ million opening seen by its predecessor or even Spider-Man/Pirates of the Caribbean, but not underperforming either– in short, no surprises. From all feedback I've noted, the movie is a crowd-pleaser despite its critical loathing, so I won't begin to assume what it's going to drop when it goes up against the well-reviewed but audience-cautious Star Trek next week.
As a testament to how much Wolverine did dominate (to be fair, against weak competition), Ghosts of Girlfriends Past only managed $15 million but came in second. New Line must be pleased either way. The other opener, Battle For Terra, didn't even come in 8th as I'd optimistically predicted here… it came in 12th– cold-cocked clean out of the ring and landing on its face two spots out of the top 10 entirely. Look for a quick bow on DVD. I'm guessing July/August, should anyone care.
The hits keep rolling, with, as mentioned, Star Trek and Andy's must-miss: Next Day Air opening in just short five days. Welcome, Summer. It's been too long.