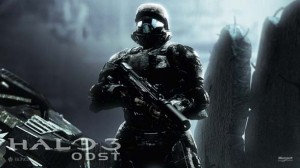 Not a lot of posting this week at AATM.com and for good reason. Well, sorta. You see on Tuesday, Bungie and Microsoft released the fourth game in the Halo franchise, Halo 3: ODST, and, well, I've been a little busy killing jackals, brutes, grunts, hunters and traversing the Las Vegas-like streets of New Mombassa. I offer no apologies. I am a Halo nerd.
At any rate, I leave you with a live-action preview for the ODST game below. Oh, yeah, and in case you were wondering, ODST stands for Orbital Drop Shock Trooper. Yeah, these guys are the best-of-the-best, that is, next to the Spartans, i.e. Master Chief. They get pooped out of spaceships and rush to planets in tiny little capsules, hence their motto, "feet first into hell." Pretty sweet, if you ask me. And just another reason a Halo movie should be made by Hollywood pronto.
As a side note, look for Dan's review of Fame on Friday, as well as our review of the Bruce Willis creepy-toupee-futuristic-thriller, Surrogates. We'll also have our Fall movie guide up on Friday, as well. Until then, guard your carnal treasure and soak up the last days of September, the long and steady drop toward winter starts soon.