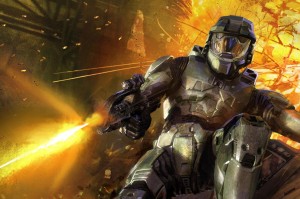 John Campea of The Movie Blog likes to point out quite often that video game movies suck. Sadly, I'd have to agree. I suppose you could call me a "gamer," but I really only follow a few franchises – "Halo," "Gears of War," and "Call of Duty" – and I'm rarely impressed or surprised by other games. I think "BioShock" and "Dead Space" are the only other games of late that have been both awesome in gameplay and easily destined for something cinematic. Truthfully, aside from "Halo," my "following" of "Gears" and "Call of Duty" is passive at best.
So let's talk about "Halo." Why do I love it? Well, for two different reasons. First off, the gameplay, while repetative, is only fun because of XBOX Live and that is only fun because of the immense amount of trash talking that takes place. I jump on XBOX Live and play "Halo 3" not to rise to the highest ranks of Halodom, but to laugh with my friends and say naughty words at teenagers and rednecks. But my primary love of Halo comes from the story. It is riveting, deep and full of backstory. Laugh if you want, but there are many who would agree.
And it seemed for awhile the stars were aligned. Peter "Lord of the Rings" Jackson signs on as producer and hires a talented "noob" as director, none other than "District 9" helmer Neill Blomkamp. The wheels start spinning before the release of "Halo 3" in 2007 and Blomkamp actually put together some shorts that set-up the story in "Halo 3." As of now, the project is dead. Microsoft was deemed a cadre of greedy bastards by Hollywood and both Fox and Universal pulled out of the deal.
I bring up the "Halo" movie because of a post last week on the MTV Movies Blog. Blogger Adam Rosenburg references a Sci-Fi wire story about how "G.I. Joe: The Rise of Cobra" writer Stuart Beattie, in his free time during the 2007 writer's strike, penned a screenplay based on Eric Nylund's "Fall of Reach." Apparently Beattie is a huge fan of the franchise and is pining for a movie to be made. He says, "It's like our generation's Star Wars. The whole Halo nation that's out there, and a 100,000-year history of the Halo universe, it's just breathtaking and so much fun to play in that sandbox. I've read every book, played every game, every graphic novel. It's just a fun world to be in."
My prediction skills aren't the best, especially when it comes to my passions, but despite evidence to the contrary, I don't think the "Halo" movie is dead. It might not be moving, but it's not dead. There is too much happening in the "Halo" universe for a movie not to happen. You've got "Halo 3: ODST" that hits shelves on September 22nd, the recent announcement of "Halo: Reach" due in 2010 (which MTV's Rosenburg erroneously cites as "rumored" in his blog story), a new anime series from Microsoft called "Halo Legends" and the creation of a new XBOX Live gathering place for "Halo" nerds called "Halo Waypoint." Oh, and don't forget a little movie called "District 9" hitting theaters in a few weeks from Neill Blomkamp and Peter Jackson. Maybe if "District 9" is as awesome as it looks, the trust in Mr. Blomkamp's abilities to helm a triple digit blockbuster budget might be earned.
So what does this all mean? Could be nothing, or it could be the stars beginning to align for a story that absolutely must come to the big screen. Personally, I think the folks involved know their time is limited and if they don't strike soon, then truly the "Halo" movie will be dead and gone.