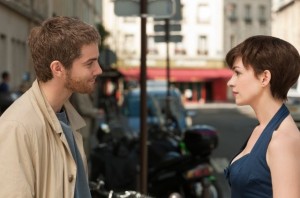 I don't know if it's my advanced age or some desensitization to "chick flicks," but I'm thinking One Day, a new romantic drama starring Anne Hathaway and Jim Sturgess, looks promising. In fact, I probably should repent straightway for mentioning "chick flick" in the same breath as this movie, especially since it's directed by Lone Scherfig, the brilliant woman behind 2009's An Education. I guess this is my easy way of admitting that I enjoy a good romance, but I prefer stories that tap into real life, rather than the ridiculously goofy stuff that one would find on Kate Hudson (Something Borrowed) and Matthew McConaughey (Ghosts of Girlfriends Past) resumes. Real life is full of love and possibility and happy endings. You just have to believe.
One Day is based on the novel of the same name, written by David Nicholls (who also wrote the screenplay for the movie), and follows two friends, Emma (Anne Hathaway) and Dexter (Jim Sturgess), over the course of 20 years after their graduation from the University of Edinburgh on July 15, 1988. The pair slept together on the night of their graduation but never became romantically involved, instead remaining friends. The novel, each chapter in fact, returns to each subsequent July 15 for, as stated before, 20 years. The novel charts the various directions Emma and Dexter's lives take, including their various romances, but the one constant is each other and, I assume, the romance, or even sadness, comes in the question – will they or won't they acquiesce to fate and admit and accept their love for each other.
Check out the trailer below and let me know your thoughts. I'm not sure I'll run right out and catch this in the multiplex, but it's definitely on my list of movies to see in 2011. It hits theater on August 19, 2011, which leads me to believe it's being dangled in the early stages of the award's season.