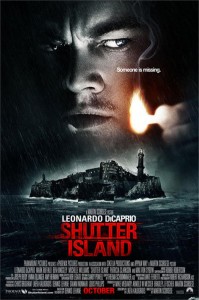 I was reaaaaaalllly looking forward to Martin Scorsese's new film, Shutter Island, this October and cried salty, bitter tears when Paramount Pictures announced last week they were moving the picture's release date to February 19, 2010. Brad Grey, chairman and CEO of Paramount Pictures released the following statement today:
Our 2009 slate was greenlit in a very different economic climate and as
a result we must remain flexible and willing to recalibrate and adapt to
a changing environment.  This is a situation facing every single studio
as we all work through the financial pressures associated with the
broader downturn. Like every business, we must make difficult choices to
maximize our overall success and to best manage Paramount's business in
a way that serves Viacom and its shareholders, while providing the film
with every possible chance to succeed both creatively and financially.

Martin Scorsese is not just one of the world's most significant
filmmakers, but also a personal friend. Following a highly successful
2009, we have every confidence that Shutter Island is a great anchor to
lead off our 2010 slate and the shift in date is the best decision for
the film, the studio and ultimately Viacom.
You know what I say to all that? I say bah! Downturn? Recalibrate? This coming from a studio that secured three legitimate summer blockbusters in Star Trek ($256 M), Transformers: Revenge of the Fallen ($398 M), and G.I. Joe: Rise of the Cobra ($120 M), as well as an overall gross of $1.3 billion so far in 2009. I just have a hard time thinking the studio's purported financial issues have anything to do with the release date of, what seems to me, a movie marketed, aligned and engineered for awards season. We're not talking about Harry Potter or Twilight and moving a film to a more profitable release weekend. In fact, I'd bet two things will happen: One, Shutter Island won't make any more or less come February 19 than it would opening on October 2. Two, when the 2010 awards seasons are afoot, it's going to be hard to generate buzz for a movie released nearly a year before.
Or, I could be completely full of poop and Shutter Island just sucks. But really? Scorsese, DiCaprio, Ruffalo, plus a horde of actors and actresses whose names you don't know, but who you love to watch every time they play a bit part in any movie. Yeeeeeah. I don't buy it.