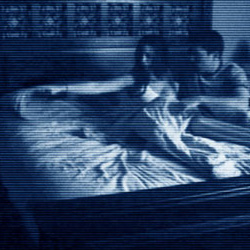 Apparently the 66 people in Logan, Utah demanding Paranormal Activity come to our town isn't quite enough to warrant the poop-your-pants scarefest to Cache Valley. Nope, instead the movie expands to 20 new cities, all of which are not named Logan. But if you live in the likes of Atlanta, Chicago, Baltimore, San Diego, San Francisco or Las Vegas, you're in luck (for the full list of expanded cities, click here).
And again, if you want this The Blair Witch Project meets Poltergeist meets The Exorcist to come to Salt Lake City or Logan, visit the movie's website and demand it come to your town! To me that's like demanding you get diarrhea or a punch to the soft parts, but hey, whatever floats your boat. This movie is proving to be the biggest "scary" buzz since The Blair Witch stormed theaters in  1999. In fact, as of last weekend it was only on 12 screens nationwide and averaging nearly $6,500 per screen. That's way above what Surrogates and Fame averaged and both films were splayed across 3,000 plus screens.
At any rate, if you've seen this, let us know if the hype is true. If you haven't, is this something you'll run out to see because of the buzz. Inquiring minds want to know.