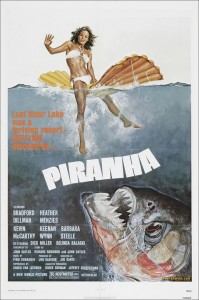 "Jaws" is one of my favorite movies of all-time and probably one of the scariest movies ever made. I don't know about you, but the combination of the deep dark ocean and a diesel-sized man-eating fish lurking below is enough to cause my pruney to shrink to diamond-creating tightness. I never saw Joe Dante's campy "Jaws" rip-off, "Piranha," but the 3-D train just keeps chugging a long with the announcement of "Piranha 3-D" coming to theaters in March 2010.
When I read the annoucement of the 3-D remake a few months back I had, key word being had, no desire to see this, but after reading ShockTillYouDrop.com's interview with director Alex Aja ("Mirrors"), I'm intrigued. The cast seems pretty solid: Elisabeth Shue, Jerry O' Connell, Christopher Lloyd, Dina Meyer, Ving Rhames, Richard Dreyfuss  Kelly Brook and Eli Roth. It also seems they aren't taking themselves too seriously. This is going to be a bloody, campy and bikini-filled terror romp. Nothing more, nothing less.
Check out the interview I've linked above and the thumbnails below (thanks to BloodyDisgusting.com for the images).
What say ye? Will you see this in theaters?