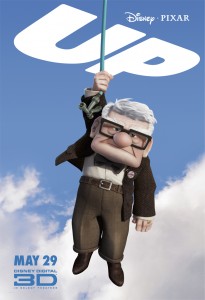 Everybody loves "Up" and that was etched in stone over the weekend when theatergoers anxious to see Pixar's new computer animated masterpiece poured in $68.2 million, knocking "Night at the Museum: Battle of the Smithsonian" out of first place and dropping "Terminator Salvation" to fourth place. "Star Trek" stayed strong in the fifth spot, with a four week gross of $209.5 million.
Frankly, I can't see "Up" relinquishing the top spot anytime soon, either. I don't think upcoming releases "Land of the Lost" (6/5),"The Taking of Pelham 123″ (6/12), "The Proposal" (6/19) or "Year One" (6/19) have the muscle to dethrone Pixar. No, "Up" will enjoy its top-spot perch until "Transformers: Revenge of the Fallen" hits theaters on June 24th.
At any rate, Pixar movies kicking derrière at the box office is nothing new. In fact, it's getting to be old hat for these wizards of computer animation. Even if their recent movies don't get into the $300 million range like 2003's "Finding Nemo," they haven't made anything less than $162 million and have the added bonus of unanimous positive reviews from film critics. After watching the trailer for "Toy Story 3," I think it's safe to say this trend will not cease anytime soon.