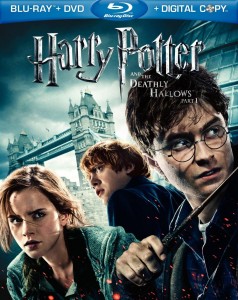 There are quite a few worthy films playing in the local theaters right now (Hanna, The King's Speech, Source Code, The Lincoln Lawyer, Rango, Insidious and Limitless), but it you're not into paying eight bucks for a half-assed Westates' screening, then the DVD/Blu-ray pickings this week (and recently) will give you enough entertainment. As always, most of these can be found at a Redbox, on Netflix or your local video rental store (in Cache Valley that amounts to Hastings or The Book Table). If you want to be a real hero and help support Andy at The Movies.com, click on the links below to purchase any of the DVDs or Blu-rays from Amazon.com.
Harry Potter and The Deathly Hallows – Part I
Harry Potter and his pals wrap up their decade-long cinema saga on July 15, 2011 with the release of Harry Potter and The Deathly Hallows – Part II, but fans can keep the Hogwarts fires lit with the release of the Harry Potter and The Deathly Hallows – Part I DVD/Blu-ray this week. You remember this movie, right? It was the porno Potter that caused uproar in Utah this past November. Hermoine and Harry's half-naked silver steam scene was just too much for some folks who clearly didn't understand movie ratings. At any rate, if you remember right, Part I left us hanging, with ol' Lord No-Nose hovering over Dumbledore's tomb and claiming the Elder Wand. I have no idea what that is, but I do know it leaves Harry and Co. up Crap Creek without a paddle. It leaves me excited for July 15.
The Incredibles
This 2004 masterpiece is, in my opinion, tied with Wall-E as the best Pixar movie to-date. Directed by Brad Bird (Iron Giant, Ratatouille and the upcoming Mission: Impossible – Ghost Protocol), The Incredibles went on to win the Academy Award for Best Animated Feature, beating out Shrek 2 and Shark Tale. It was the first Pixar movie to be rated PG and it earned a 97% "fresh" rating on RottenTomatoes.com. Peter Travers of Rolling Stone magazine probably summed it up best when, after listing it on his best films of the decade, he wrote, "Of all the Pixar miracles studded through the decade, The Incredibles still delights me the most. It's not every toon that deals with midlife crisis, marital dysfunction, child neglect, impotence fears, fashion faux pas and existential angst."
Country Strong
This movie was given the bird finger by most critics when it was released in theaters on January 7, 2011. It stars Gwyneth Paltrow (Iron Man) as a fading country star, in and out of rehab, who goes on one last tour with her husband and manager (Tim McGraw) and two up-and-coming young talents (Garrett Hedlund and Leighton Meester). I didn't see this and I'm almost 100 percent sure I won't be renting it. If you saw this and you think the critics were smoking crack by panning it, please, by all means, speak up.
That's about it for this week, but check the Amazon.com link below for DVD and Blu-ray releases from the last few weeks. Tron: Legacy looks super sexy in hi-def, Black Swan is a must-see and Disney's Tangled was a real charmer. Next week should be pretty good, with The King's Speech, The Way Back, Gulliver's Travels, Rabbit Hole and Somewhere hitting DVD and Blu-ray.