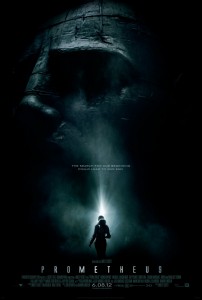 I love me some Ridley Scott, but I must confess, I haven't been too enamored with The Brother-of Tony's recent forays into le cinema. Robin Hood? Seemed promising, but didn't quite hit the ol' bullseye, despite having Russell Crowe (The Next Three Days) and Cate Blanchett (Hanna), and don't get me started on Body of Lies  or A Good Year. However, my opinion might not be so relevant, considering my favorite Ridley Scott movies are Blackhawk Down and The Kingdom of Heaven. WhaddoIknow, right? I do know this: On June 8, 2012, Scott fans and science fiction fans are going to be hoping Prometheus, the director's first foray into the genre since 1979's Alien and 1982's Blade Runner, is as fantastic as its teaser trailer.
Prometheus has been called a prequel to Scott's Alien, but from what I gather, the term prequel should be used lightly, if at all. As the title suggests (in reference to Greek mythology's Titan god – the one who stole fire from Zeus and gave it to mankind), the story involves a group of scientists exploring the origins of the human race and it's ties to the Alien franchise are done via who is the "space jockey" seen in the 1979 movie and what is the purpose of the actual alien creatures. From what I gather, the former were world-builders and the latter were world-cleansers. Regardless, sounds abso-freakin-lutely amazing to this movie lover! I can't wait!
Prometheus stars Noomi Rapace (The Girl with the Dragon Tattoo), Michael Fassbender (Shame), Guy Pearce (The King's Speech), Idris Elba (Thor), Logan Marshall-Green (Devil) and Charlize Theron (Young Adult). It hits theaters, as I mentioned before, on June 8, 2012. Check out the trailer below and let me know if you're as stoked as I am about Prometheus!