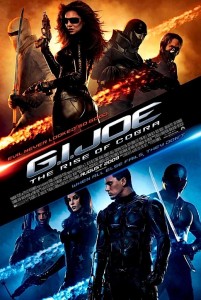 With July well into its second half and August quickly approaching, it may be time to readjust the ultra-low expectations G.I. Joe's trailers have been setting for the last few months. In fact, recent feedback from early screenings has been warm and cheery. That may not be saying much as of yet, but Ain't It Cool News, Collider and Latino Review all have reader reviews who've seen the final product… and all are surprisingly positive.
To be honest, I'm encouraged by what I'm hearing and if director Stephen Sommers can hit a similar tone in Saturday morning fun and adventure he nailed with The Mummy, he's going to deliver the crowd-pleaser early reader reviews are indicating… which means we could actually be in store for the light, fun and cheesy-good toy adventure Transformers 2 intended to deliver, but didn't quite nail. Here's to hoping.
In the mean time, I'll stubbornly keep my expectations low in hopes there's nowhere to go but up.