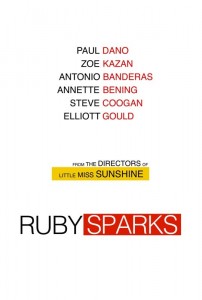 Every single time a plucky, happy, love-is-magic, life-is-wonderful trailer crosses my view, I have to remind myself of Vanilla Sky, the 2001 Tom Cruise and Cameron Crowe disaster, which, based on the trailer, I thought was going to be Oscar winning cinema. Maybe it was Penelope Cruz and her Spanish charms, or maybe it was Peter Gabriel crooning "Solsbury Hill," but I was convinced it was pure gold and then subsequently kicked smack dab in the gonads. 10 years later I've become what I'd call a hopeful skeptic. Such is the case with Ruby Sparks, due in theaters, albeit a limited release, on July 25, 2012.
Ruby Sparks tells the story of a struggling writer (Paul Dano) who creates a character, the aforementioned Miss Sparks (Zoe Kazan), and, after beginning to fall in love with Ruby, finds her in his apartment, from the pages of his novel to flesh and blood. As a writer, I love the concept behind this movie, from the husband and wife directing duo Jonathan Dayton and Valerie Faris, who received oodles of acclaim back in 2006 for Little Miss Sunshine, also starring Paul Dano. Although, to be honest, I wish the trailer had skipped hyping "from the directors of Little Miss Sunshine" and instead said "from the directors of Extreme's More Than Words music video." That would have guaranteed my ticket purchase.
Take a peek at the trailer below and share your thoughts. Yay or nay?