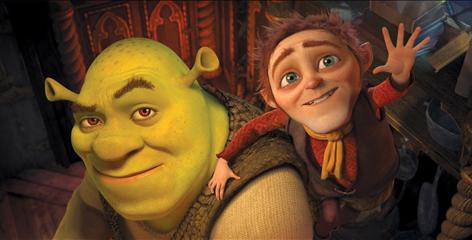 DreamWorks Animation is going to try and squeeze another dollar-flavored drip of ogre milk from the Shrek teat this May with Shrek Forever After. All of us will get an early sniff of Donkey (Eddie Murphy), Puss (Antonio Banderas), Fiona (Cameron Diaz) and Shrek (Mike Myers) when the teaser trailer debuts in front of Avatar on December 18th.
Shrek Forever After reunites the entire gaggle of fairytale creatures from the last three movies, as well as introducing Rumpelstiltskin (Walt Dohrn), who, from what I gather of the plot, turns Shrek's world upside down and sends him to some bizarre, alternate reality Far Far Away where Donkey is a genius, Lord Farquaad (John Lithgow) is still ruler and Shrek and Fiona have never met.
The question I have is can the Shrek franchise regroup after a disappointing and lackluster Shrek the Third? I don't know about you, but after relishing in the fresh comedy and spunk of the first two movies, the third movie felt ill-conceived and overbearing. My gut tells me Shrek Forever After probably will follow suit, but one can hope, right? Dare to dream!
More to come once we get our hands on the trailer – hopefully before Avatar hits theaters!