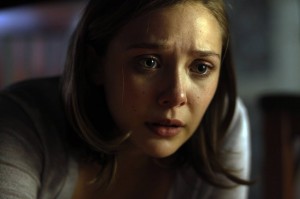 I have no problem whatsoever admitting my addiction to "found footage" films, at least the ones that seem to promise bum-puckering goodness, like The Paranormal Activity trilogy. I get guffawed at quite a bit because lots of folks think movies of this nature are cheesy and predictable. I couldn't agree more, but aren't haunted houses the same way? Still, we squeal and giggle and hide our eyes, because it's not so much about what's happening as the experience itself. And I'm giddy right now because I won't have to wait until next October for the inevitable Paranormal Activity 4 and get my fix on March 9, 2012 with the release of Silent House, starring Elizabeth Olsen, the newcomer, and sister of Mary Kate and Ashley, who burst on to the Hollywood scene after she dazzled critics and audiences in Martha Marcy May Marlene.
Silent House is actually a remake of a 2010 Uruguayan horror film called The Silent House.  The idea behind the movie is the events unfolding are happening in real-time, i.e. the entire 88 minutes of the movie. The plot, supposedly based off real events that occurred in the 1940s, revolves around a father and daughter who, amidst restoring an old house, discover some nasty secrets and, it seems from the trailer, some equally nefarious inhabitants.
Silent House is directed by Chris Kentis and Laura Lau, who premiered the remake at the 2011 Sundance Film Festival. Kentis, you may remember, is responsible for another cheek-clinching film back in 2004, the stranded in the middle of the ocean thriller, Open Water. So far reviews seem to be thumbs up for Silent House and you can bet I'll be first-in-line to see this. Check back on March 9, 2012 for my review, but today take a peek at the trailer below and let me know if you need to borrow my Metamucil and Vaseline.