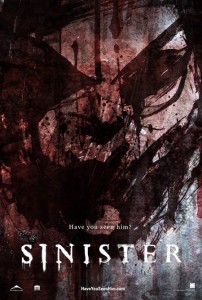 Anyone who has tuned in to the KVNU For the People Movie Show (610 AM and 102.1 FM) or done any reading at Andy at The Movies.com, knows that I have a soft spot for found footage films and have found my butt cheeks at diamond clinching strength numerous times over the last several years with the Paranormal Activity franchise, as well as The Descent, The Strangers, The Fourth Kind and Insidious. In fact, I'm counting down the days until the fourth installment of Paranormal Activity hits theaters on October 19th. I thought the first two were fantastic, but I loved where Ariel Schulman and Henry Joost (the duo behind 2010's popular – and creepy – documentary, Catfish) took the third movie and their return to the director's helm for PA4 has my expectations and excitement at stratospheric levels.
Another slice of scary celluloid I'm pining for in October is a supernatural horror film called Sinister. It hits theaters on October 12th and is directed by Scott Derrickson, whom I applaud for his work as writer and director on 2005's The Exorcism of Emily Rose (another creepy gem worth renting on DVD), and for whom I'd like to kick square in the crotch for the debacle known as The Day the Earth Stood Still, easily one of the worst flicks I have ever seen in my 38 years of moviegoing. Sinister tells the story of a true-crime novelist (Ethan Hawke), who moves into a new house with hopes of churning out a bestseller, but instead finds himself perusing old home movies that show the home's previous occupants and their grisly murders. At the center of this whole goosebump-generating affair is some creature named Bagul and by investigating the mystery, our struggling novelist unwittingly invites this horror into his family.
Early reviews (it played at the South by Southwest Festival in March 2012) have nothing but praise for Sinister, and my guess is after watching the trailer below and clicking on the poster above, you'll agree with me – Sinister looks to be another well-done terrifying October horror movie.
As always, let me know your thoughts! Yay or nay on the probability of this puckering your pruney?