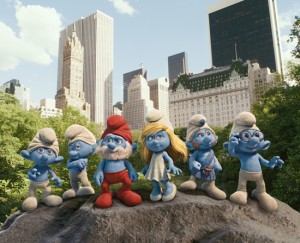 And that man would be me.
Yes, I just gave myself a straight uppercut to Manland. Now, not only am I singing alto, but my childhood memories of The Smurfs are tainted by the kind of lifeless CGI, poop and fart humor and unintelligent swings at pop culture that made Alvin and The Chipmunks the first movie in history to almost singlehandedly usher in the second coming of Jesus. Considering it's almost 2012, The Smurfs movie just might be the final nudge we need for the apocalypse to begin.
The Smurfs hits multiplexes on August 3, 2011 and stars, as live action characters, Neil Patrick Harris (How I Met Your Mother), Hank Azaria (Love and Other Drugs) and Jayma Mays (Glee). The actual Smurfs are voiced by Jonathan Winters (Papa Smurf), Katy Perry (Smurfette), Alan Cumming (Gutsy Smurf), Anton Yelchin (Clumsy Smurf), Fred Armisen (Brainy Smurf), George Lopez (Grouchy Smurf), Paul Reubens (Jokey Smurf), Jeff Foxworthy (Handy Smurf) and Wolfgang Puck (Chef Smurf).
On second though, Katy Perry might be reason enough for me to sit through this drivel. I love me some Katy Perry.
Check out the trailer for The Smurfs, and you might want to pop a Cymbalta beforehand.