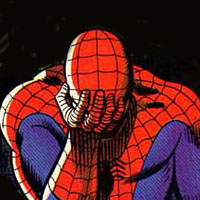 Sony, in a recent press release and Twitter update, has officially closed the book on Spider-Man 4. In it's place? Spider-Man… Rebooted.
Wait… what?
That's right, Deadline Hollywood broke the news earlier this evening and Sony : Raimi (God bless you, Man!) basically pulled the plug on his involvement with the franchise. The reason (besides the possible reason cited here in this story)? Sony's pushing for a 2011 May release would harm the creative integrity of the story. And with that, the cast is gone as well. Which leaves Sony in complete control- control in which they're bagging a continuation of the franchise as we know it and steering Spider-Man back to High School in a reboot of a hugely successful franchise that's not even eight years old.
In the mean, smoke is being blown up a variety of asses as Raimi, Toby McGuire and Sony are all bidding one another a fond and superlative adieu in the biggest bull**** statements and press releases of all time. Or at least, all time this week.
Case in point? Tobey McGuire's statement: "I am so proud of what we accomplished with the Spider-Man franchise over the last decade. Beyond the films themselves I have formed some deep and lasting friendships. I am excited to see the next chapter unfold in this incredible story."
I guess there's not much more he can say, but yeesh.
So, Spidey fans, look forward to 2012, where you'll get a Spider-Man reboot with a new director, new Spider-Man, a new Mary-Jane, a new everything. Probably younger. Probably all better looking and probably all involving "hotter" villains than Raimi had a fondness for (Venom? Lizard? Carnage?). Many will blame Barack Obama. I blame Sony. Still, I think I'm OK with a reboot. Or better yet, cautiously optimistic. Raimi imbued heart and genuine love into a franchise that transcended the fanbase and created a resurgence of the comic book movie. Despite a penchant for goofy cheese, Peter Parker felt real and accessible. Sony's idea of revisiting High School feels like a cheap rehash.
What I'm not OK with is the corporate mentality of jettisoning creativity for the easier path of franchise reboot that has all the possibilities of trying a cookie cutter approach via The Dark Knight: Gritty. At least, that's what it feels like and that's lame. We'll see as things develop over the next two years. There are a lot of promises right now from Sony, and while I'm no fanboy, this whole affair just feels dismissively short-sighted. And crap, I don't even know Raimi.
The news on this sucker is coming quickly with more sure to come in the coming days and weeks. We'll keep you posted. In the mean time, here's the press release:
Culver City, CA (January 11, 2010) — Peter Parker is going back to high school when the next Spider-Man hits theaters in the summer of 2012. Columbia Pictures and Marvel Studios announced today they are moving forward with a film based on a script by James Vanderbilt that focuses on a teenager grappling with both contemporary human problems and amazing super-human crises.

The new chapter in the Spider-Man franchise produced by Columbia, Marvel Studios and Avi Arad and Laura Ziskin, will have a new cast and filmmaking team. Spider-Man 4 was to have been released in 2011, but had not yet gone into production.

"A decade ago we set out on this journey with Sam Raimi and Tobey Maguire and together we made three Spider-Man films that set a new bar for the genre. When we began, no one ever imagined that we would make history at the box-office and now we have a rare opportunity to make history once again with this franchise. Peter Parker as an ordinary young adult grappling with extraordinary powers has always been the foundation that has made this character so timeless and compelling for generations of fans. We're very excited about the creative possibilities that come from returning to Peter's roots and we look forward to working once again with Marvel Studios, Avi Arad and Laura Ziskin on this new beginning," said Amy Pascal, co-chairman of Sony Pictures Entertainment.

"Working on the Spider-Man movies was the experience of a lifetime for me. While we were looking forward to doing a fourth one together, the studio and Marvel have a unique opportunity to take the franchise in a new direction, and I know they will do a terrific job," said Sam Raimi.

"We have had a once-in-a-lifetime collaboration and friendship with Sam and Tobey and they have given us their best for the better part of the last decade.This is a bittersweet moment for us because while it is hard to imagine Spider-Man in anyone else's hands, I know that this was a day that was inevitable," said Matt Tolmach, president of Columbia Pictures, who has served as the studio's chief production executive since the beginning of the franchise. "Now everything begins anew, and that's got us all tremendously excited about what comes next. Under the continuing supervision of Avi and Laura, we have a clear vision for the future of Spider-Man and can't wait to share this exciting new direction with audiences in 2012."

"Spider-Man will always be an important franchise for Sony Pictures and a fresh start like this is a responsibility that we all take very seriously," said Michael Lynton, Chairman and CEO of Sony Pictures. "We have always believed that story comes first and story guides the direction of these films and as we move onto the next chapter, we will stay true to that principle and will do so with the highest respect for the source material and the fans and moviegoers who deserve nothing but the best when it comes to bringing these stories and characters to life on the big screen."