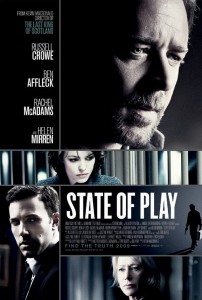 "State of Play" is an intelligent, seamlessly paced political thriller that will most likely be overlooked and even steamrolled this weekend by the Zac Efron Love Train. Who wants to watch a chubby Russell Crowe and a graying Ben Affleck attack D.C. corruption when Efron's rippled abs can be had for the better part of two hours? Maybe you might, but I'll take the former "Gladiator" star and his acting chops any day over Captain High School Musical.
Love him or hate him, Russell Crowe proves in "State of Play" that which moviegoers have known for more than a decade: He is one of the best leading actors working today. There is absolutely no debate, Crowe is the real deal. From "L.A. Confidential" to "The Insider" to "Gladiator," "A Beautiful Mind" and "Cinderella Man," Crowe has the ability to morph into the characters he is portraying on the big screen. He lends emotion and believability to his roles, something very rare in Hollywood these days.
But he's not alone in "State of Play." The cast, including Ben Affleck ("He's Just Not That Into You"), Rachel McAdams ("Married Life"), Helen Mirren ("The Queen"), Robin Wright-Penn ("What Just Happened"), Jason Bateman ("Juno") and Jeff Daniels ("The Lookout") round out a crew of actors whose talents are matched perfectly to their characters. Director Kevin Macdonald also shows that his last two ventures, "Touching the Void" and "The Last King of Scotland," were not flukes.
"State of Play," while for this film is set in Washington D.C., is actually adapted from a six-part British television series of the same name. The film follows a journalist, Cal McAffrey (Russell Crowe), who eats, sleeps and drinks hard, investigative news. We're talking Woodward and Bernstein action. He's old-school, isn't a big fan of blogs or their writers and spends the majority of his time in his messy, beat-up Saab or his cluttered cubical at the Washington Globe. The film brings the dilemma of modern-day newspapers to light via the Globe's editor, Cameron Lynne (Helen Mirren). She's caught between pushing the paper to make money for its corporate owners, as well as maintaining the paper's long-established objective of reporting more on the side of investigation instead of sensationalism.
Cal is looking into a double homicide when news breaks that his college roommate and friend, Congressman Stephen Collins (Ben Affleck), is having a romantic affair with a research assistant on his staff (Maria Thayer). This would seem like any other day in D.C., except she was killed on the way to the PointCorp hearings, of which she was the lead researcher for Collins, who is chairing the hearings. With his politician friend's revelation, Cal soon finds himself in over his head. He's got a Washington Globe cub reporter/gossip blogger, Della Frye (Rachel McAdams), following him around and questioning his methods of motivation, a double homicide that all-of-the-sudden seems related to the death of the senator's mistress, and both Stephen and Anne Collins (Robin Wright-Penn) looking to him for support and guidance. And despite all of the drama, Cal only wants one thing – the truth, it's what he believes the people deserve.
Without a doubt, "State of Play" is one of the best films of 2009 so far. It has some genuine twists and turns that I didn't see coming, which, I'm afraid to admit, might make me a total idiot. And, as I noted before, the acting in this film is fantastic. I just don't understand why Universal Stuidos scheduled this movie for April, when, in fact, it's more like an October release – something to wet the whistle of the Academy Awards voters. I can't help but think Russell Crowe would see some Oscar love if this movie was released this fall.