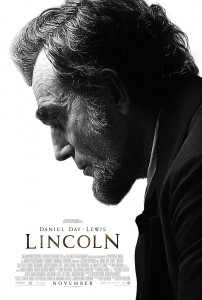 By now most folks have seen the paparazzi pictures of a chinstrapped Daniel Day-Lewis (There Will Be Blood) relaxing in a café during the filming of Steven Spielberg's Lincoln, and if you haven't seen that snapshot, then you've definitely seen the poster for Lincoln, due for wide release in theaters on November 16, 2012. Despite Day-Lewis' amazing resemblance to the 16th president of the United States and a surefire best actor Oscar nod, there hasn't been a trailer or media barrage typical of a Steven Spielberg production. But, after yesterday's Google+ hangout with Spielberg and star Joseph Gordon-Levitt (The Dark Knight Rises), a nearly two and a half minute trailer debuted to wide applause.
Lincoln definitely has the makings of a film destined for Oscar glory, but the first trailer doesn't have me completely sold. It's got the musical goodness of John Williams and shots of the first-rate cast delivering some powerful lines, especially Day-Lewis, but between all of that, I wonder if a cohesive story can be melded together and the bull's eye drilled by Spielberg. His track record on movies like this is amazing (The Color Purple, Empire of the Sun, Schindler's List, Amistad, Saving Private Ryan, Munich and War Horse), so as I do with Pixar and Christopher Nolan, I trust this small glimpse into the possible majesty of Lincoln is just a morsel of what hopefully is a powerful and poignant piece of cinema.
Take a peek at the trailer below for Lincoln and let me know what you think.