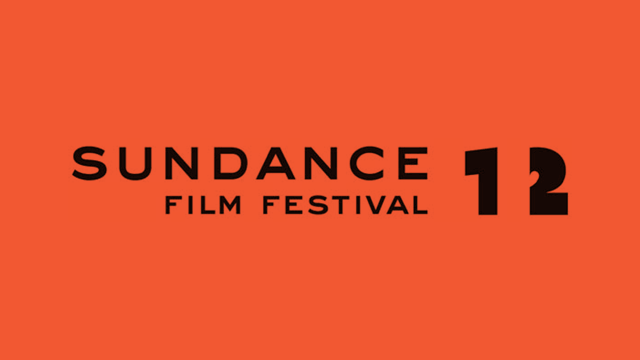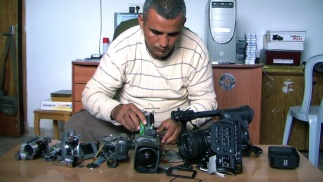 5 Broken Cameras is the most personal documentary I have ever seen. Emad Burnat films years of struggle within his hometown of Bil'in as the Israeli army pushes further into the borders of their city. Emad cycles through five cameras throughout the course of the documentary, and as he says, each camera represents a part of his story. Several of his cameras are shot by Israeli soldiers, another is hit by exploding tear gas. The film begins and ends with images of his five broken cameras, which symbolize the destruction they captured during their lifespan.
Emad's voiceoiver offers the perfect copmliment to the images he captures, removing any need for staged interviews commonly seen in documentary films. Emad doesn't start out as a professional, but his courage and determination to film while surrounded by chaos allows his ability as a cameraman to develop. Emad began filming when his fourth son, Gibreel, was born. Along with two of Emad's close friends, he films the struggle as the Israeli army begins to construct a separation barrier that continually encroaches on their city. Emad continually puts himself in harms way in order to film attacks on peaceful protests. As the film progresses, the dangers for Emad and his family begin to grow. Arrests are made daily, children are taken into custody and night raids are a constant threat. The struggle continues down a seemingly endless path, Emad's friends are held in jail for extended periods, others are wounded or killed.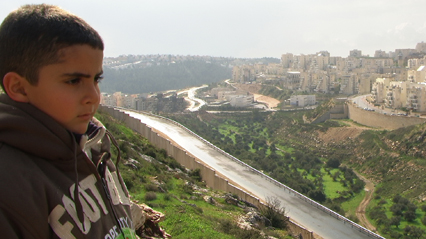 During a Q & A session following the screening Emad answered questions about his experience shooting the film. His answers confirmed his personality that shone through during the film. One man asked how he was able to get so close to the Israeli army during the attacks on his friends and family. His response was simple yet powerful. The city he called home was being taken away from him. He walked next to the soldiers because it was his land they were trespassing on. He understood the dangers he faced every time he went out to film the resistance. Even after urges from his wife to give up filming, he maintained that it was his duty and purpose to film the events.
5 Broken Cameras is a powerful documentary that shows the determination of the people who believe their land is wrongfully being taken from them. Over five years Emad documented a resistance that grew more dangerous by the day. With countless acts of violence and growing despair of those around him, Emad finds hope in the eyes of his youngest son Gibreel.