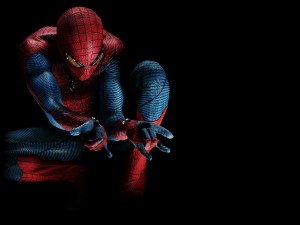 The Dark Knight Rises teaser trailer debuted in front of Harry Potter and the Deathly Hallows – Part 2 last Friday and popped up officially online a few days thereafter, and never in my wildest imagination did I think Spider-Man would beat out Batman for my love and attention this week, but boyhowdy, director Marc Webb, the man behind (500) Days of Summer, has fashioned a trailer that is stylistic, brooding, intriguing and makes his re-boot, The Amazing Spider-Man, easily one of the most anticipated movies of 2012. I'm not dumping on Christopher Nolan and the surefire blockbuster that The Dark Knight Rises will surely become. I'm just saying Spider-Man whooped Batman's ass this week in the battle of teaser trailers.
When Andrew Garfield was announced as Peter Parker/Spider-Man last summer, I scratched my head. After watching The Social Network, I understood why Webb chose him as the webslinger. His performance as Eduardo Saverin helped make The Social Network an Oscar contender. Garfield is a fantastic actor and this teaser trailer confirms my hopes.
At any rate, as a whole, I like the look and feel of The Amazing Spider-Man. It seems, on first glance, the silliness of Sam Raimi (Spider-Man 1-3) has been replaced with the grittier, real-world feel that Nolan and others have brought to the comic book movie universe over the last several years. I welcome the change and can't wait to see a longer trailer and, of course, the final product, due in cinemas on July 3, 2012.
Take a peek at the trailer below. What are your thoughts?