The Dark Knight Rises Poster Has Me Excited to See Harry Potter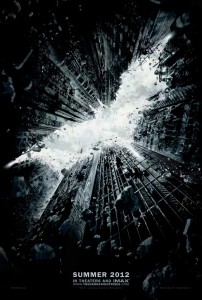 The big buzz on the web this week, after a few fan-made trailers hit YouTube this past month, is whether or not a teaser trailer for The Dark Knight Rises would be attached to Harry Potter and the Deathly Hallows – Part 2. I was at a press screening for the final Potter film last Monday, July 11, and Batman was no where to be found. However, I'm heading out to see Potter and Co. tomorrow for the sole purpose of catching a small glimpse of The Dark Knight Rises, easily the most anticipated movie of 2012. According to Screen Rant, the trailer is attached to The Deathly Hallows – Part 2, so if any AATM readers have seen the trailer, give us your thoughts. Did you wet yourself with excitement and anticipation? I know I sure as crap will.
At any rate, check out the teaser poster for The Dark Knight Rises (click on the thumbnail for a super-sized version). Me likey. It's bold and on first glance has an Inception feel to it. All I know is Christopher Nolan can do no wrong in my book. He is the Pixar of directors right now and I cannot wait for The Dark Knight Rises, especially considering my unabashed love for The Dark Knight and Batman Begins. Easily the best superhero movies ever made. Period.