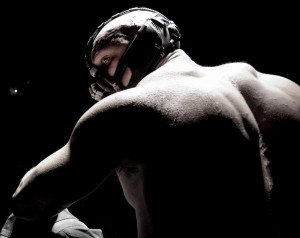 Judas H. Priest! I cannot believe I sat through a second showing of Harry Potter and The Deathly Hallows – Part 2 just to catch a big screen glimpse of the much-anticipated, long-awaited teaser trailer for The Dark Knight Rises, due in theaters July 20, 2012. I mean, don't get me wrong, I enjoyed The Deathly Hallows – Part 2, but I'm no Hogwarts zealot. Once is enough for me. Still, Christopher Nolan's musk of perfection led me to the theater and I did catch the preview, which clocks in at a little over a minute. Teaser doesn't even do it justice. If The Dark Knight Rises was a stripper, I got a glimpse of ankle and that's about it. And from what I've seen thus far, I'm torn. Part of me was buoyed and intrigued, the other half was juggling ho-hums and sighs.
So what do we gather from the teaser? Jim Gordon (Gary Oldman) is in the hospital talking raspy to, we assume, Bruce Wayne (Christian Bale), and sort of simultaneously complaining that Batman went on hiatus and imploring the Caped Crusader to join the fight again. Other than the graphic from the teaser poster, there is no knew footage in the first portion of the teaser, just shots from the other two films and Ra's al Ghul's (Liam Neeson) speech about becoming a legend from Batman Begins. I think what I hate most about the teaser and what made me sour was the standard "Every Hero Has a Journey…Every Journey Has an End" text. Did we really need that bit of type? That was the best Nolan and Co. could manage for this first glimpse at the final Batman movie? I don't like it. It seems easy and cheap.
Still, even with that minor complaint, the preview is a teaser and it does just that. We are left to wonder where Batman has gone, what has cropped up since he's been out of the crimefighting picture, and we're given a couple quick flashes of Bane (Tom Hardy) to whet our villainous appetite. We're still left to wonder how Selina Kyle/Catwoman (Anne Hathaway) fits into the picture, as well as how significant the roles of Marion Cotillard (Inception), Juno Temple (Year One) and Joseph Gordon-Levitt (Inception) will be in The Dark Knight Rises. Alas, we'll most likely have to wait until the full trailer is released, and, based on Nolan's past timelines, I wouldn't expect that to hit the theaters and the web until this December at the earliest.
At any rate, that's my two-cents. What say ye? Do you like the teaser, or were you disappointed like me?