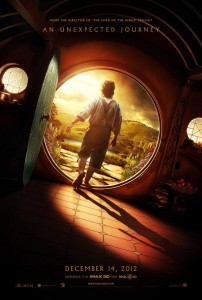 Peter Jackson's The Lord of the Rings trilogy is without a doubt three of my favorite movies of all-time. From the seamless and spectacular meshing of practical and CGI effects, to the breathtaking score and marvelous ensemble acting, there is really nothing I can get riled up about and criticize (except for The Return of The King's neverending ending). You'd think with my love of the previous trilogy I'd be chomping at the bit to see Peter Jackson venture back to Middle Earth with The Hobbit: An Unexpected Journey and The Hobbit: There and Back Again, but I'm not. In fact, I'm slightly worried these two prequels, especially considering they're being released in 3D, will do for The Lord of the Rings trilogy what the Star Wars prequels did for the original trilogy – sully and corrupt the whole franchise.
Don't get me wrong, I'm more than happy to put my trust in Peter Jackson. His filmography since The Lord of the Rings speaks for itself. King Kong and The Lovely Bones are splendid and underappreciated movies and Jackson is an adept director, but The Hobbit franchise has been a large mess of lawsuits and posturing since 2006, culminating with Guillermo del Toro, whom Jackson handpicked, leaving the project in 2010 and Jackson taking the reigns shortly thereafter. Maybe that's for the best, but then we have this gawky preview, recently released with The Adventures of Tintin, and frankly, my first viewing of the trailer didn't help reassure my feelings that The Hobbit isn't going to live up to expectations. Just because you play familiar music and show our old pal Gandalf and Gollum doesn't mean outright success. At first glance, this two-plus minute preview seems silly, muddled and too much of a wink-wink to the prior films. However, I had to remind myself this is only a teaser and, in my humble opinion, it does just that. I was also reminded that The Hobbit was written for children and, as such, the material must be digested differently than the heavy-themed, super-violent The Lord of the Rings.
Am I excited for these films? Sure, but cautious, zero-expectation excitement is my temperature at this stage. I'm probably in the minority here, because Facebook erupted in hosanna shouts of hallelujah the day the preview released for The Hobbit: An Unexpected Journey, but I have to trust my instincts and at this stage my giddiness for a return to Middle Earth is not where I expected it would be. I'll reserve total judgment for the next trailer and for the final film on December 14, 2012, but, again, right now I'm collecting splinters on the fence and a cold wind of pessimism is blowing hard into my 3D glasses. Boo.