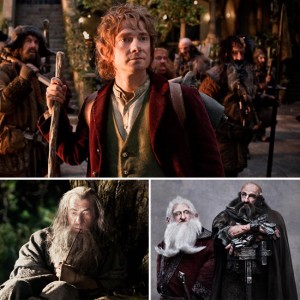 Peter Jackson is awesome. I can't think of another director that has involved the fans to the level that Jackson has during the filming of The Hobbit. I have loved each of the set videos he has released. Now, to be clear, I have watched all of the bonus material for the Lord of the Rings trilogy multiple times. I am not normally a behind the scenes junkie. Often times behind the scenes material is a mix of a bad History channel documentary and sub-ChuckECheese production value. Jackson, however, plans ahead and spends a lot of time (and I assume money) developing behind the scenes extras. In set video #4 Jackson even managed to get me excited about seeing The Hobbit films in 3D… I hate 3D. I think it is an overpriced gimmick that adds nothing other than a headache to my viewing experience. That being said, I don't believe Peter Jackson would use 3D unless he truly thought it would add to the visual experience of the films.
Like set video #4 (3D), each video has focused on a different stage of the development and production process. The most recent video was the second part of location shooting, which takes place all across New Zealand. The landscapes in New Zealand are truly unbelievable and the new video contains footage from scenes that readers of the book will appreciate. My favorite happened to include a few dwarves inside of some oversized barrels.
Andy Serkis (Gollum) is the 2nd unit Director, and luckily got to fly around New Zealand in a helicopter filming landscapes for the films. I wonder how hard Jackson had to twist Serkis' arm for him to accept that gig.


When Jackson finished shooting this set video, they were on day 127 of production, and had 100 days left to film. The first film… The Hobbit: An Unexpected Journey will be released on December 14th, 2012. Hopefully Jackson will release a few more set videos to keep us satisfied for another ten months. Check out the video (and links to previous set videos) below.
Set Video #1
Set Video #2
Set Video #3
Set Video #4
Set Video #5