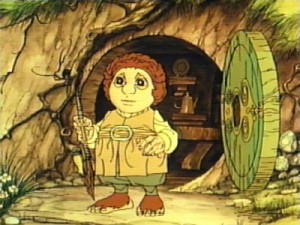 I think you'd be hard pressed to find a living, breathing soul who doesn't have a hankering for more Lord of the Rings movie goodness. Peter Jackson's trilogy is easily one of the greatest cinematic masterpieces of all-time. Somehow Mr. Jackson was able to sift through all the D&D nerd crap and make three films that appeased both the Tolkien fanatics and Joe Plumber.
Well, folks longing for more LOTR goodness can inch that much closer to giddiness as we learn today, according to Ian McKellen (Gandalf), the long awaited live-action version of The Hobbit will begin filming in New Zealand this June. McKellen notes filming will take over a year and regarding the script he says "The first draft is crammed with old and new friends, again on a quest in Middle Earth."
The Hobbit will be a two-part movie (December 2011 and December 2012) and is directed by Guillermo del Toro (Hellboy II: The Golden Army). Fans of LOTR can also buy the trilogy on Blu-ray when it's released on April 6, 2010. You can buy from Amazon.com and help AATM in the process by clicking the link below.
The Lord of the Rings: The Motion Picture Trilogy (Theatrical Editions) [Blu-ray]