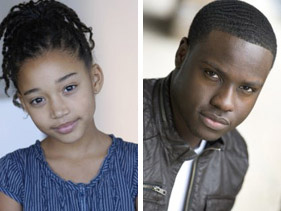 The Hunger Games movie, due in theaters on March 23, 2012, continues to move forward with more casting, this time choosing newcomers Amandla Stenberg and Dayo Okeniyi as the tributes from District 11, Rue and Thresh. Fans of the novels vividly remember Rue as the 12 year-old girl Katniss Everdeen befriends in her first trip to the games. Rue could jump from tree-to-tree because she worked in the orchards in District 11, which is how she was able to warn Katniss about a deadly nest of tracker jackers. Katniss sings a lullaby to Rue during the games and fans know this ought to be a throat-tightening moment for sure.
In other THG news, rumors are swirling that actress Elizabeth Banks (The Next Three Days) is in negotiations to play Effie Trinket. This, in my opinion, would be a great move and adds more weight to an already talented cast of Jennifer Lawrence (Katniss Everdeen), Josh Hutcherson (Peeta Mellark) and Liam Hemsworth (Gale Hawthorne). Something tells me we'll know soon enough who will be filling the shoes of Haymitch, Prim and President Snow.
Also, visit The Hunger Games official Facebook Movie Fan Page for a pretty cool graphic showing the tributes and the cast thus far.