The Hunger Games Trailer is Here! Finally a Reason to See Breaking Dawn!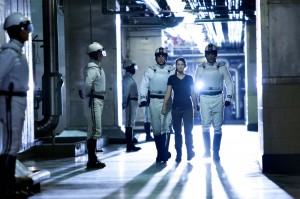 Sweet Mary Mother of Moses, it's about freakin' time! I've been waiting for a full-length trailer for The Hunger Games since the day Jennifer Lawrence was cast as Katniss Everdeen, the heroine of Suzanne Collins' dystopian series of young adult novels. I wasn't a huge fan of the teaser trailer shown during the MTV Video Music Awards back in August, but this two minute and thirty seven second preview is well worth the wait. As a huge fan of the books, it's cool to see a small glimpse of how my favorite characters (Katniss, Peeta, Cinna, Haymitch) and not-so-favorite characters (Gale) translate to the silver screen. After watching this trailer, I just can't help but extend a big fat bravo to director Gary Ross. This movie is going to make Lionsgate a grundleload of cash and is going to be a massive hit.
Check out the trailer for The Hunger Games movie below and let me know your thoughts? What did you like and what was disappointing (if anything!)? I'd have to say my only question mark was with Haymitch (Woody Harrelson). We didn't get a big dose of him in the trailer and what I saw made me wonder if they missed the mark with casting and character. Bottom line? March 23, 2012 can't come soon enough!