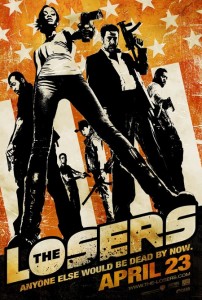 Guess what movie is going to drop a little baby burp at the box office in a few weeks and then disappear into the underworld of inconsequential cinema? Not Furry Vengeance or The Back-up Plan, although those two abominations are deepfried in suck. No, I'm talking about The Losers. And why you might ask? Not because Hollywood is trying to force feed me Jeffrey Dean Morgan (The Accidental Husband) as a leading man, or because I'm sick of seeing Chris Evans (Push) face. The Losers is going to flop hardcore because Warner Brothers has mishandled the release badly.
The Losers, directed by Sylvian White (Stomp the Yard), was originally scheduled to release this weekend, April 9. Frankly, The Losers, with its only competition coming via Date Night, might have seen some decent returns. But for whatever reason, Warner Brothers pushed the movie out until June 4, 2010, staking its claim in a summer movie lineup that looks absolutely wretched. Now, as of a few weeks ago or sooner, the movie has been rewound to April and will release alongside The Back-up Plan on April 23rd. This tug-of-war with the opening date does nothing to inspire confidence in me and I'm sure it doesn't help keep the film in the radar of potential viewers.
Maybe I'm wrong, but I doubt it. If you have an argument to the contrary, I'd love to hear it.