It's the first weekend of April and things are a little a slow on the "summer appetizer" movie release slate (IE- there's money to be made, but maaaaybe not enough to give them a summer slot). Instead, it'll most likely be a weekend for audiences to revisit the gooey, slimy and engorged antics of Monsters vs. Aliens (Andy's review here).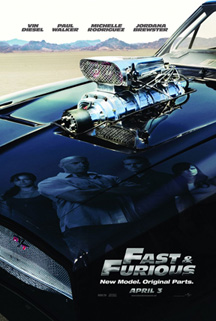 Unless, of course, you like your movies served up on a piping hot plate of fancy girls, pretty boys and the vehicles they exploit. That's right– Vin "I used to be a contender!" Diesel   and Paul "Me too!" Walker return to punching dudes in the face and gas pedals to floor in Fast & Furious— not to be confused with The Fast and the Furious or what would have been the natural progression of the franchise name: More Fasterer and More Furiouser.
As to plot points, there's not much to know. Feuding friends Dominic (Diesel) and Bryan (Walker) parted ways in the original, but find their paths crossing again in a tangle of tangled tangliness. This time, furious exploits involve a joint quest to put a righteous beatdown on a heroine importer, seducing chicks and keeping Hollywood's Stuntman Union gainfully employed.
In theaters less furious comes Adventureland, director Greg Mattola's followup to last year's Superbad. The mild comedy is winning nearly universal smiles as a sweet and charming reminiscence to summer jobs gone by. Still, Adventureland is rated "R", replete with all the cursing and potty talk you knew and loved when you were a local amusement park employee.
Adventureland's most recognizable name is star Kristin "Don't call me Bella!" Stewart, but the shenanigans center around a recent college graduate (played by Jesse Eisenberg) who, after a string of unplanned disappointments, works and illegally smokes his problems into submission via summer employment at the Pennsylvania amusement park Adventureland. The film plays out circa 1987– the year I turned lucky 13 and asked Rachael Harris if she'd "go with me"– and also stars Andy's ever-witty man-crush: Ryan Reynolds.